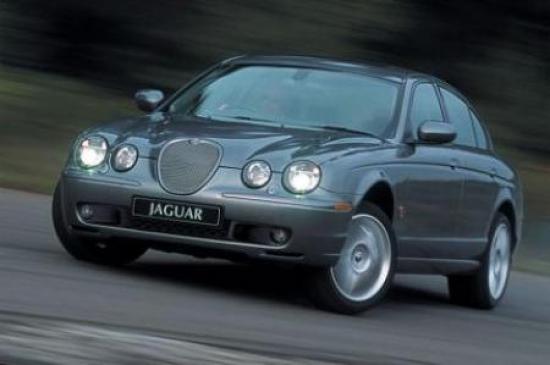 Jaguar S-Type R specs
| | |
| --- | --- |
| Car type | 4-door saloon |
| Curb weight | 1800 kg (3968 lbs) |
| Introduced | 2002 |
| Origin country | United Kingdom |
| Views | 25.8k |
Performance
| | |
| --- | --- |
| 0 - 100 kph | 5.6 s |
| Est. 0 - 60 mph | 5.3 s |
| 0 - 100 mph | 13.6 s |
| 0 - 150 mph | 42.0 s |
| Est. 1/8 mile | 9.5 s @ 85.7 mph |
| 1/4 mile | 13.8 s @ 103.1 mph |
| Top speed | 250 kph (155 mph) |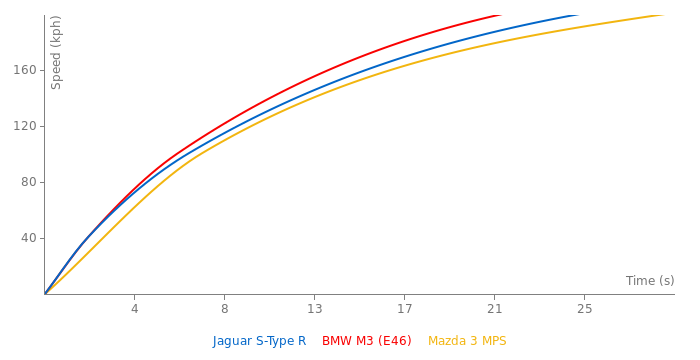 Powertrain specs
| | |
| --- | --- |
| Engine type | V8, Supercharged, 32v |
| Displacement | 4.2 l (256 ci) |
| Power | 395 ps (390 bhp / 291 kw) |
| Torque | 541 Nm (399 lb-ft) |
| Power / liter | 94 ps (93 hp) |
| Power / weight | 219 ps (216 bhp) / t |
| Torque / weight | 301 Nm (222 lb-ft) / t |
| Transmission | 6 |
| Layout | front engine, rear wheel drive |
S-Type R competition
---
hostboy 1y ago
FUN FACT: No S-Type Rs ever actually made 390-400 hp. It was just a marketing ploy made by Jaguar to compete in the M5/E55 crowd. The fastest ones did around 13.8-14.0sec in the 1/4-mile at around 102mph average. The most powerful ones made around 330-360 hp at the crank. Not one acceleration test showed that the STR could rev to 6100 rpm, it was more like 5250-5500 rpm.
What was "supposed" to be an E39 M5 and W210/W211 E55 AMG rival, was really an E60 545i and W211 E500 Mk1 rival
---
STP 1m ago
You are referring to the pre facelift. The facelift had more power. Also in 1st and 2nd gears it shifts but in all other gears it revs to redline.
---