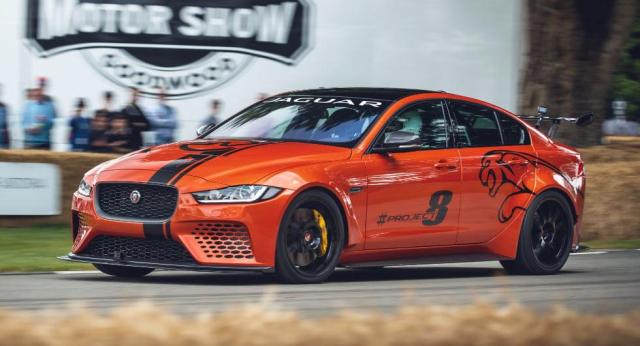 Jaguar XE SV Project 8 specs
| | |
| --- | --- |
| Car type | 4-door saloon |
| Curb weight | 1670-1771 kg (3682-3904 lbs) |
| Power / weight | 349 ps (344 bhp) / t |
| Torque / weight | 407 Nm (300 lb-ft) / t |
| Introduced | 2017 |
| Origin country | United Kingdom |
| Price in Europe | €182,200 - €193,900 |
| Views | 6.9k |
| Submitted by | Inline 6 rules |
Performance
| | |
| --- | --- |
| Top speed | 322 kph (200 mph) |
| 0 - 50 kph | 1.6 s |
| 0 - 100 kph | 3.6 s |
| 0 - 130 kph | 5.3 s |
| 0 - 160 kph | 7.5 s |
| 0 - 200 kph | 11.3 s |
| 0 - 250 kph | 19.4 s |
| 0 - 300 kph | 38.1 s |
| 0 - 60 mph | 3.3 s |
| Est. 1/8 mile | 7.8 s @ 101.9 mph |
| 1/4 mile | 11.5 s |
| Est. 1/2 mile | 18.7 s @ 152.2 mph |
| Est. 1 mile | 30.4 s @ 172.7 mph |
| 1000 m | 20.8 s @ 252.7 kph |
| 60 - 100 kph (4) | 2.9 s |
| 60 - 100 kph (5) | 4.2 s |
| 80 - 120 kph (5) | 3.9 s |
| 80 - 120 kph (6) | 5.5 s |
| 80 - 120 kph (7) | 7.4 s |
| 80 - 120 kph (8) | 12.6 s |
| Est. 100 - 200 kph | 7.7 s |
| Est. 200 - 300 kph | 27.6 s |
| Est. 0 - 100 mph - 0 | 10.7 s @ 784 ft |
| Est. max acceleration | 0.97 g (10 m/s²) |
| 100 kph - 0 | 32 m (103 ft) |
| 200 kph - 0 | 122 m (400 ft) |
Powertrain
Engine type
V8, supercharged, DI, 32 valves, DOHC
Displacement

5.0 l (305 ci)

Power

600 ps (592 bhp / 441 kw)

@ 6500 rpm
Torque

700 Nm (516 lb-ft)

@ 3500 rpm
Power / liter

120 ps (118 hp)

Power / €5000

16 ps

Transmission
8 speed automatic
Layout
front engine, all wheel drive
XE SV Project 8 rivals
petrr 1y ago
Italishits blown the f*ck out.
---
Charlie Lippincott 2y ago
I feel like the jaguar de sv project 8 is rivals with cars like the bmw m4 gts, or the upcoming Mercedes c63r. The jaguar xe sv project 8 is clearly built for the track, so its rivals are the track oriented variants of the bmw m3/m4 and the Mercedes c class amg.
---

Inline 6 rules 2y ago
Jaguar's answer to Alfa Giulia QV, BMW M3 and Mercedes C63 AMG/ AMG S.
0-100 km/h: 3.7 s
Top speed: 322 km/h