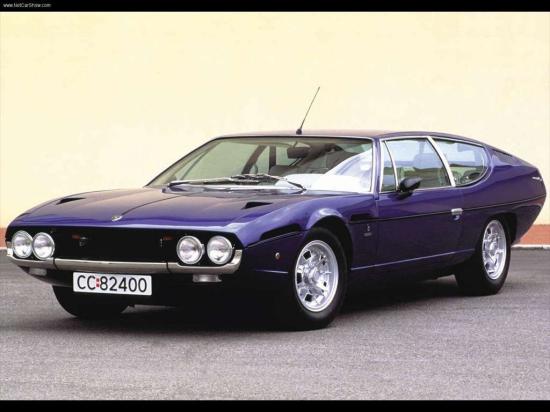 | | |
| --- | --- |
| Car type | Coupe |
| Introduced | 1968 |
| Origin country | Italy |
| Views | 6.1k |
Performance
| | |
| --- | --- |
| 0 - 60 mph | 5.0 s |
| Top speed | 266 kph (165 mph) |
Powertrain specs
| | |
| --- | --- |
| Power | 350 ps (345 bhp / 257 kw) |
| Layout | rear engine, rear wheel drive |
Espada competition
More Lamborghini cars
118
Limpi 2y ago
0-60 mph is rather around 6.1-6.5 seconds.
---
---
Gary Collins 2m ago
Haha! Lol, My boy HAS an Espada, all he did was put modern radial tires (Pirelli 02000), low resistence spark plug cables, iridium spark plugs, and O² sensor, 2 ¾" exhaust, with high flow catalyric converters, changed nothing with the engine, or transmission, just modern lubricants, and it runs 0 to 60 in 5 seconds flat, and the ¼ mile in just over 14 seconds. You'd be surprised what upgrading tires, and fluids can do for older cars... So yeah, he is "even close." (Btw, he has a Jaramba too, and that sucker is all factory original, numbers matching, and FAST!)
---
rsvp 6y ago
Does this really do 0-60 in 5 seconds dead!? seems very fast considering its torque/weight ratio and age.
---
Gary Collins 2m ago
My boy collects vintage Italian cars, his Espada runs 0-60 in 4.9 sometimes, and the quarter mile in about 13.7 to 14. The guy mentioned "modern tires" earlier, and he's right. The original tires were "bias ply" tires, which are known for not grabbing half as well as modern sports "radial" tires. He puts modern Pirelli (because their Italian) radial tires, on all his cars, and consistently picks up a half second, to a second, on the documented 0-60 times. You gotta remember something, Lamborghinis n/a V12 engines are ANGRY torque monsters. You could power a Sherman tank with that engine, and all you'd have to do is add a turbo.
---

Mental 10y ago
Oh, these missed data just kills me! So here it is:
Torque: 392 Nm (289 lb-ft) @ 5500;
Displacement: 3.9 liters (240 ci);
Engine type: V12, DOHC, 24v, which is obviously situated at the front;
Compression ratio: 10.8:1;
Bore&Stroke: 82, 62 mm;
Gearbox: 5 speed manual;
Curb weight: 1695 kg (3737 lbs);
Length: 4738 mm (186 in).
The body looks quite strange. If I didn't know what this car actually is, I'd say that this is obviously not Lambo!
---
Gary Collins 2m ago
If you check out the "Maserati Indy" from that era, it being a Lambo, makes a lot more sense... Besides, the headlights have "lashes." Gandini pur eyelashes on all his cars, from that era... well most of them. Still he's known for them. As soon as you see the lashes, and hear the year, you know it's a Lambo. They just wanted to add a family car to their lineup, that's all. The following year, Maserati followed suit.