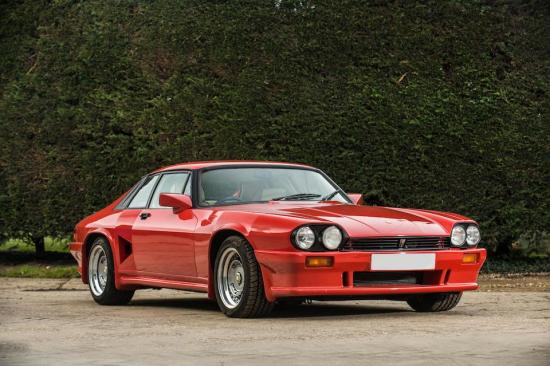 Lister Jaguar XJ-S (6.0) specs
| | |
| --- | --- |
| Car type | Coupe |
| Curb weight | 1734-1770 kg (3823-3902 lbs) |
| Dimensions | 4.62 m (182 in) long, 1.89 m (74 in) wide, 1.22 m (48 in) high |
| Wheelbase | 2.59 m (102 in) |
| Years built | 1983 - 1988 |
| Origin country | United Kingdom |
| Gas mileage | 61.2-34.1 l/100 km (4-7 mpg US / 5-8 mpg UK) |
| Views | 550 |
| Submitted by | 196ss |
Performance
| | |
| --- | --- |
| 0 - 60 kph | 3.5 s |
| 0 - 80 kph | 4.7 s |
| 0 - 100 kph | 5.9 s |
| 0 - 120 kph | 7.9 s |
| 0 - 140 kph | 9.7 s |
| 0 - 160 kph | 12.4 s |
| 0 - 180 kph | 15.3 s |
| 0 - 200 kph | 18.8 s |
| 1000 m | 24.6 s |
| 60 - 100 kph (4) | 8.0 s |
| 80 - 120 kph (5) | 12.5 s |
| Est. 100 - 140 kph | 3.9 s |
| Est. 100 - 200 kph | 12.9 s |
| 0 - 30 mph | 2.0 s |
| 0 - 60 mph | 4.8 s |
| 0 - 100 mph | 10.8 s |
| 0 - 130 mph | 18.9 s |
| 0 - 150 mph | 28.0 s |
| Est. 1/8 mile | 9.8 s @ 88.2 mph |
| 1/4 mile | 13.1 s @ 112.0 mph |
| Top speed | 284 kph (176 mph) |
| Est. max acceleration | 0.52 g (5 m/s²) |
| 70 mph - 0 | 59 m (195 ft) |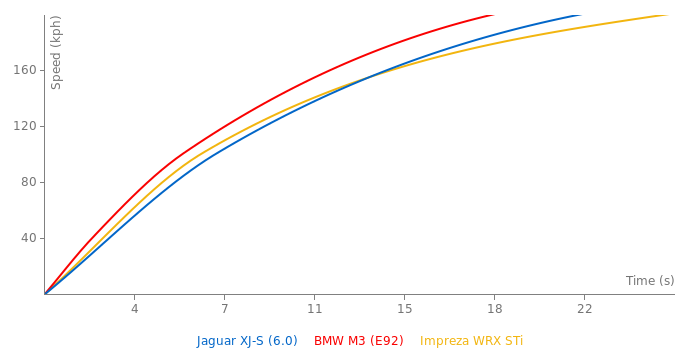 Powertrain specs
Engine type
V12 SOHC
Displacement

6.0 l (366 ci / 5994 cc)

Power

481 ps (475 bhp / 354 kw)

@ 5900 rpm
Torque

664 Nm (490 lb-ft)

@ 4200 rpm
Power / liter

80 ps (79 hp)

Power / weight

274 ps (270 bhp) / t

Torque / weight

378 Nm (279 lb-ft) / t

Efficiency
10 PS per l/100 km
Transmission
5 speed manual
Layout
front engine, rear wheel drive
Jaguar XJ-S competition
---
FastestLaps 2y ago
Absolutely gorgeous. And a V12.... And with proper leather & wood interior with analog gauges and no tacky screens, gimmicks and gadgets...
---
---
---
---
---
196ss 2y ago @hostboy
AMuS tested cars with full tank and 2 people on board, so it's numbers looks slow compared with US magazines.
For example C&D tested the car with half tank and only a driver. They achieved 0-60 in 4,8 sec and 1/4 mile in 13,1 sec with trap speed 112 mph. Maybe they also used rollout, don't know if they used it at the time.