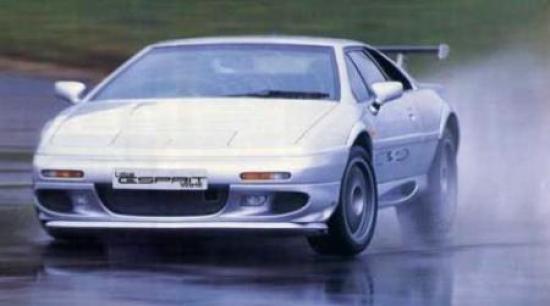 Lotus Esprit Sport 350 specs
| | |
| --- | --- |
| Car type | Coupe |
| Curb weight | 1299-1449 kg (2864-3194 lbs) |
| Introduced | 1999 |
| Origin country | United Kingdom |
| Gas mileage | 31.7-12.3 l/100 km (7-19 mpg US / 9-23 mpg UK) |
| Views | 23.8k |
Acceleration
| | |
| --- | --- |
| 0 - 100 kph | 4.4 s |
| 0 - 200 kph | 15.3 s |
| 1000 m | 22.8 s @ 228.5 kph |
| Est. 100 - 200 kph | 10.8 s |
| 0 - 30 mph | 1.7 s |
| 0 - 40 mph | 2.3 s |
| 0 - 50 mph | 3.5 s |
| 0 - 60 mph | 4.3 s |
| 0 - 70 mph | 5.7 s |
| 0 - 80 mph | 7.0 s |
| 0 - 90 mph | 8.2 s |
| 0 - 100 mph | 9.9 s |
| 0 - 110 mph | 12.0 s |
| 0 - 120 mph | 14.1 s |
| 0 - 130 mph | 16.7 s |
| 0 - 140 mph | 21.8 s |
| Est. 1/8 mile | 8.8 s @ 96.3 mph |
| 1/4 mile | 12.7 s @ 114.0 mph |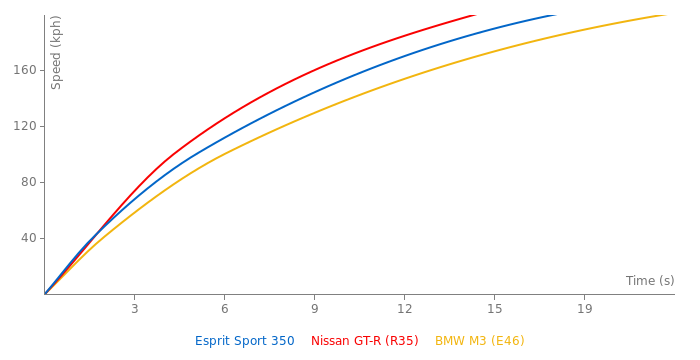 ---
---
FastestLaps 2y ago @Hoppelmoppel123
Check if you have made similar mistake elsewhere. Default units are typically metric. Most popular mistake I make is enter quarter mile trap speed in miles per hour when the default unit is kph. Have to add "mph" unit to trap speed in this case.
---
---
Anonymous 14y ago
These times are true for Sport 350:
0-100 km/h: 4.4 (0-60 mph: 4.3)
0-160 km/h: 9,8 (0-100 mph: 9.9)
0-200 km/h: 15.3
1/4 mile: 12.6 or 12.7 (the second more probable).
---
Anonymous 16y ago
The really oponent of Ferrari 355 and Corvette C5...
But the Lotus have a 3.5 V8 Biturbo with 350hp and 355 have a 3.5V8 atmosferic and 375hp...