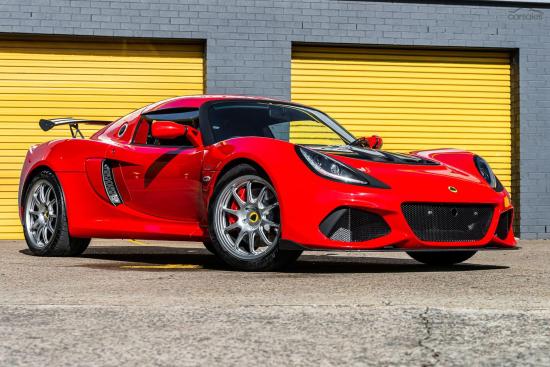 Lotus Exige 410 Sport (Mk III) specs
| | |
| --- | --- |
| Price in Europe | €96,991 - €113,430 |
| Car type | Coupe |
| Curb weight | 1054-1147 kg (2324-2529 lbs) |
| Dimensions | 4.08 m (161 in) long, 1.80 m (71 in) wide, 1.13 m (44 in) high |
| Introduced | 2018 |
| Origin country | United Kingdom |
| Gas mileage | 14.1-10.6 l/100 km (17-22 mpg US / 20-27 mpg UK) |
| Views | 1.2k |
| Submitted by | klaas |
Acceleration
| | |
| --- | --- |
| 0 - 40 kph | 1.1 s |
| 0 - 50 kph | 1.4 s |
| 0 - 60 kph | 1.7 s |
| 0 - 70 kph | 2.4 s |
| 0 - 80 kph | 2.8 s |
| 0 - 90 kph | 3.2 s |
| 0 - 100 kph | 3.7 s |
| 0 - 110 kph | 4.2 s |
| 0 - 120 kph | 5.1 s |
| 0 - 130 kph | 5.8 s |
| 0 - 140 kph | 6.4 s |
| 0 - 150 kph | 7.1 s |
| 0 - 160 kph | 8.4 s |
| 0 - 170 kph | 9.4 s |
| 0 - 180 kph | 10.4 s |
| 0 - 190 kph | 11.6 s |
| 0 - 200 kph | 14.0 s |
| 0 - 250 kph | 21.6 s |
| 1000 m | 22.7 s @ 231.0 kph |
| Est. 0 - 60 mph | 3.7 s |
| Est. 1/8 mile | 8.5 s @ 98.8 mph |
| 1/4 mile | 11.8 s @ 119.0 mph |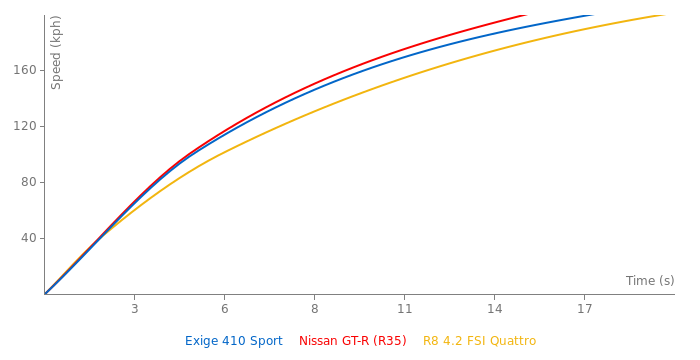 General performance
| | |
| --- | --- |
| Top speed | 290 kph (180 mph) |
| Est. 0 - 100 mph - 0 | 15.7 s @ 1339 ft |
| Est. max acceleration | 0.79 g (8 m/s²) |
| 18m slalom | 72.6 kph (45.1 mph) |
| Est. emissions | 260 g/km |
| 100 kph - 0 | 32 m (104 ft) |
| 200 kph - 0 | 129 m (422 ft) |
Powertrain specs
Engine type
V6 DOHC Supercharged
Displacement

3.5 l (211 ci / 3456 cc)

Power

416 ps (410 bhp / 306 kw)

@ 7000 rpm
Torque

420 Nm (310 lb-ft)

@ 3500 rpm
Power / liter

120 ps (119 hp)

Power / weight

371 ps (366 bhp) / t

Torque / weight

375 Nm (277 lb-ft) / t

Efficiency
35 PS per l/100 km
Power / €5000

20 ps

Transmission
6 Speed manual
Layout
middle engine, rear wheel drive
Rolling acceleration
| | |
| --- | --- |
| 60 - 100 kph (4) | 3.4 s |
| 60 - 100 kph (5) | 5.1 s |
| 80 - 120 kph (4) | 3.3 s |
| 80 - 120 kph (5) | 4.6 s |
| 80 - 120 kph (6) | 5.3 s |
| 80 - 160 kph (4) | 7.6 s |
| 80 - 160 kph (5) | 10.7 s |
| 80 - 160 kph (6) | 12.4 s |
| 80 - 120 kph | 2.2 s |
| 100 - 140 kph | 3.6 s |
| Est. 100 - 200 kph | 10.7 s |
Exige 410 Sport competition
---
Hoppelmoppel123 4m ago
Motor Australia would have had a better time but they stopped messuring at 190 kph for no reason. Wheels Australia and the german magazines got terrible numbers.
---

BenzinImBlut 5d ago
Exige Mk.3 V6 tested by SportAuto had 327hp instead of 350
Exige Mk.3 Cup380 tested by SportAuto had 343hp instead of 380
Exige Mk.3 Sport410 rather has an effective 380hp instead of 416
---
dr. cosimo 4m ago
proof why german tests should be taken with a grain of salt & pretzels, when it comes to any other than vw automobili
---
---

BenzinImBlut 5d ago
Mine is effectively weighing in at 1119kg. It has an enhanced liquid cooling of the supercharger's air intake, though, which may have added a couple kilos.
---
---