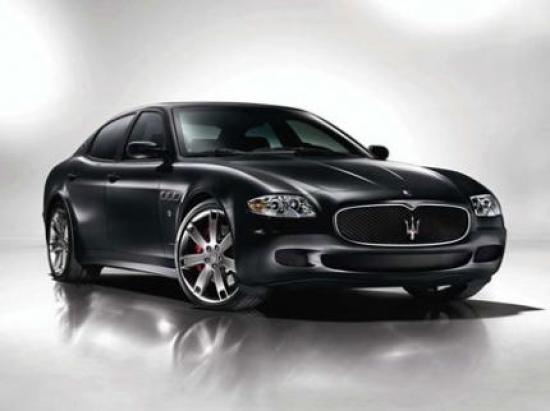 Maserati Quattroporte Sport GT S specs
| | |
| --- | --- |
| Car type | 4-door saloon |
| Curb weight | 1990 kg (4387 lbs) |
| Introduced | 2009 |
| Origin country | Italy |
| Views | 16k |
| Submitted by | FadeToBlack |
Performance
| | |
| --- | --- |
| 0 - 50 kph | 2.1 s |
| 0 - 80 kph | 3.8 s |
| 0 - 100 kph | 5.1 s |
| 0 - 130 kph | 8.1 s |
| 0 - 200 kph | 18.7 s |
| Est. 100 - 200 kph | 13.6 s |
| Est. 0 - 60 mph | 4.8 s |
| 0 - 100 mph | 11.0 s |
| Est. 1/8 mile | 9.4 s @ 91.3 mph |
| 1/4 mile | 13.1 s |
| Top speed | 285 kph (177 mph) |
| Est. max acceleration | 0.61 g (6 m/s²) |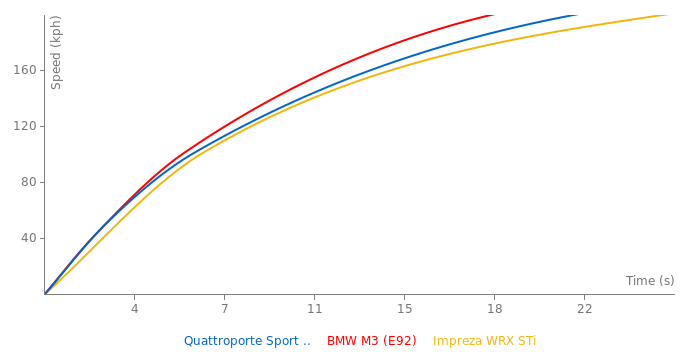 Powertrain specs
Engine type
V8 32V
Displacement

4.7 l (287 ci)

Power

439 ps (433 bhp / 323 kw)

@ 7000 rpm
Torque

490 Nm (361 lb-ft)

@ 4750 rpm
Power / liter

93 ps (92 hp)

Power / weight

221 ps (218 bhp) / t

Torque / weight

246 Nm (182 lb-ft) / t

Transmission
6
Layout
middle engine, rear wheel drive
Quattroporte Sport GT S competition
---
---
FadeToBlack 14y ago
Regarding the engine location: thought of it this way: front, behind the axle -> middle. It makes more sense than simply front engined car (since the engine is actually between the car's front and rear axles).
Top Gear website quote: "Then there's the handling, aided by an engine that sits entirely behind the front axle line, effectively making the car front-mid-engined."
The gearbox is a ZF 6Speed Automatic.