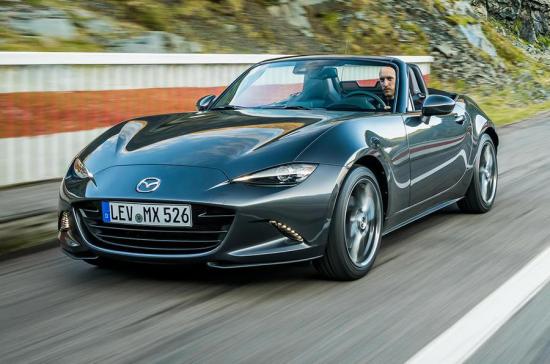 Mazda MX-5 2.0 (Mk IV 184 PS) specs
| | |
| --- | --- |
| Price in Europe | €27,790 - €37,250 |
| Car type | Convertible |
| Curb weight | 1030-1079 kg (2271-2379 lbs) |
| Introduced | 2018 |
| Origin country | Japan |
| Gas mileage | 12.1-5.1 l/100 km (19-46 mpg US / 23-56 mpg UK) |
| Views | 24.9k |
| Submitted by | Inline 6 rules |
Acceleration (mph)
| | |
| --- | --- |
| 0 - 30 mph | 1.9 s |
| 0 - 40 mph | 3.0 s |
| 0 - 50 mph | 4.3 s |
| 0 - 60 mph | 5.7 s |
| 0 - 70 mph | 7.8 s |
| 0 - 80 mph | 9.8 s |
| 0 - 90 mph | 12.7 s |
| 0 - 100 mph | 15.8 s |
| Est. 1/8 mile | 10.4 s @ 81.4 mph |
| 1/4 mile | 14.4 s @ 95.5 mph |
| Est. 1/2 mile | 25.2 s @ 118.1 mph |
Acceleration (kph)
| | |
| --- | --- |
| 0 - 40 kph | 1.8 s |
| 0 - 50 kph | 2.2 s |
| 0 - 60 kph | 2.9 s |
| 0 - 80 kph | 4.4 s |
| 0 - 100 kph | 6.3 s |
| 0 - 110 kph | 7.6 s |
| 0 - 120 kph | 8.8 s |
| 0 - 130 kph | 9.8 s |
| 0 - 140 kph | 11.9 s |
| 0 - 150 kph | 13.7 s |
| 0 - 160 kph | 15.3 s |
| 0 - 180 kph | 20.9 s |
| 0 - 200 kph | 29.3 s |
| 1000 m | 26.7 s @ 194.0 kph |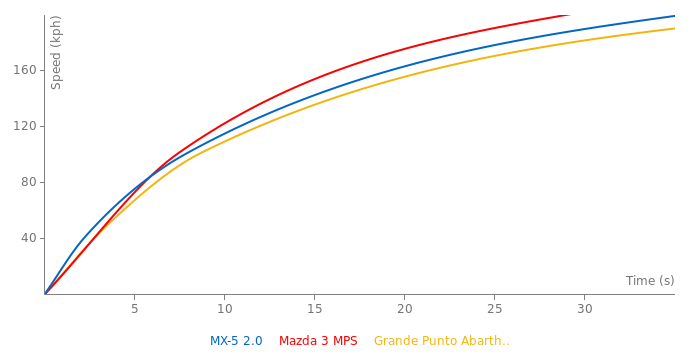 General performance
| | |
| --- | --- |
| Top speed | 233 kph (145 mph) |
| Est. 0 - 100 mph - 0 | 27.3 s @ 2484 ft |
| Est. max acceleration | 0.48 g (5 m/s²) |
| 18m slalom | 66.1 kph (41.1 mph) |
| Emissions | 148 g/km |
| Lateral acceleration | 0.95 g (9 m/s²) |
| Noise @ 50 kph | 64 dB |
| Noise @ 100 kph | 74 dB |
| Noise @ 130 kph | 79 dB |
Powertrain specs
Engine type
Inline 4, n/a, DI, 16 valves, DOHC, DVVT
Displacement

2.0 l (122 ci / 1998 cc)

Power

184 ps (181 bhp / 135 kw)

@ 7000 rpm
Torque

205 Nm (151 lb-ft)

@ 4000 rpm
Power / liter

92 ps (91 hp)

Power / weight

173 ps (171 bhp) / t

Torque / weight

193 Nm (142 lb-ft) / t

Efficiency
26 PS per l/100 km
Power / €5000

28 ps

Transmission
6 speed manual
Layout
front engine, rear wheel drive
Rolling acceleration
| | |
| --- | --- |
| 60 - 100 kph (4) | 5.1 s |
| 60 - 100 kph (5) | 7.5 s |
| 80 - 120 kph (4) | 5.4 s |
| 80 - 120 kph (5) | 7.2 s |
| 80 - 120 kph (6) | 10.8 s |
| 80 - 160 kph (4) | 13.3 s |
| 80 - 160 kph (5) | 17.3 s |
| 80 - 160 kph (6) | 25.7 s |
| 100 - 140 kph (4) | 5.2 s |
| 70 - 90 kph | 5.6 s |
| 70 - 100 kph | 8.4 s |
| 70 - 120 kph | 14.2 s |
| 70 - 130 kph | 17.2 s |
| 70 - 140 kph | 20.5 s |
| Est. 100 - 140 kph | 5.4 s |
| Est. 100 - 200 kph | 23.8 s |
MX-5 2.0 competition
---
*-V8-* 3y ago
I'd love to see a Nordschleife time of the 250HP SPS MX-5!
---

---

Inline 6 rules 4y ago
I'm absolutely NOT a cabrio guy. I would never ever choose a cabrio version of a Ferrari/Lamborghini/Porsche/Aston/Mercedes/BMW/Audi, etc. over the coupe version of the same model.
But I would happily own one of this MX-5. It's one of those very few cabrios that car enthusiasts can like.
---

Inline 6 rules 4y ago
MX-5 with the heavily modified 2 liters engine. The previous 2.0 engine wasn't that sporty character, it was somewhat "lazy", getting weak over 6000 rpm. In Europe, where both the 1.5 and the 2.0 liters engine is available car magazines has preferred the smaller engine because it was more eager to rev. Mazda has had enough of this, so they heavily modified the 2.0 engine. Now it's more eager to rev, far more alive over 6000 rpm. Power has increased to 181 HP/ 184 PS at 7000 rpm, rev limit is 7500 rpm. Peak torque has increased to 151 lb-ft/ 205 Nm, and Mazda says there is slightly more torque at every rpm compared to the outgoing engine.
And it also passes the newest Euro 6d-TEMP emission test.