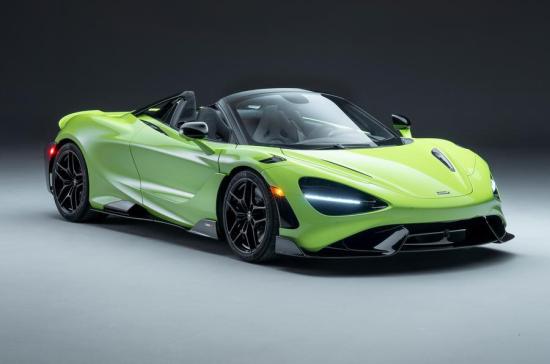 McLaren 765LT Spider specs
| | |
| --- | --- |
| Car type | Convertible |
| Curb weight | 1388 kg (3060 lbs) |
| Introduced | 2021 |
| Origin country | United Kingdom |
| Views | 385 |
| Submitted by | fakekillerfour |
Performance
| | |
| --- | --- |
| 0 - 100 kph | 2.8 s |
| 0 - 200 kph | 7.2 s |
| Est. 1000 m | 18.7 s @ 292.0 kph |
| Est. 100 - 200 kph | 4.4 s |
| 0 - 60 mph | 2.7 s |
| Est. 1/8 mile | 6.8 s @ 119.9 mph |
| 1/4 mile | 10.0 s |
| Est. 1/2 mile | 16.3 s @ 174.6 mph |
| Top speed | 330 kph (205 mph) |
| Est. 0 - 100 mph - 0 | 8.6 s @ 600 ft |
| Est. max acceleration | 1.07 g (10 m/s²) |
| 100 kph - 0 | 30 m (97 ft) |
| 200 kph - 0 | 108 m (354 ft) |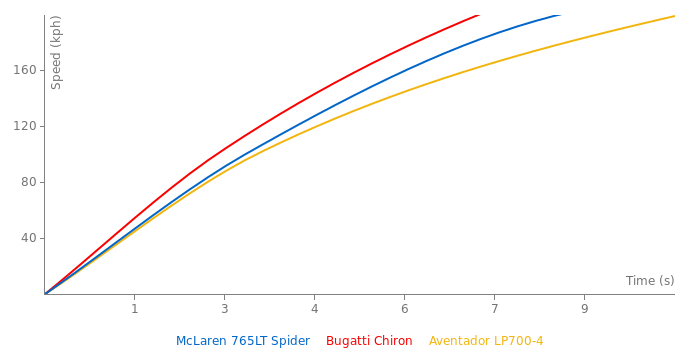 Powertrain specs
| | |
| --- | --- |
| Engine type | V8 Twin Turbo |
| Displacement | 4.0 l (244 ci) |
| Power | 765 ps (755 bhp / 563 kw) |
| Torque | 800 Nm (590 lb-ft) |
| Power / liter | 191 ps (189 hp) |
| Power / weight | 551 ps (544 bhp) / t |
| Torque / weight | 576 Nm (425 lb-ft) / t |
| Transmission | 7 speed dual clutch automatic |
| Layout | middle engine, rear wheel drive |
765LT Spider competition
---
ChironSS 1w ago
https://www.instagram.com/p/CPnKyQEgMdy/?utm_medium=copy_link
KM/H
0-100= 2.94 seconds
0-200= 7.02 seconds
0-300= 17.7 seconds
100-200= 4.08 seconds
200-300= 10.68 seconds
Top speed (indicated)= 202MPH converted from km/h rounded up.
Firstly I'd like to thank Lambolover for the link. It was first shown weeks ago in the Mclaren Speedtail section but I completely forgot. It's too important not to be gathered.
A point worth making is it's GPS verified by Dragy and they do measure to 300km/h this wasn't in the video or I missed it. Apologies if this is so.
It's an incredibly impressive machine and Mclaren have taken the 765 to a new level from the 720.
It's worth pointing out that the manufacturer claimed metrics for the entire speed range have been met or nearly have been. There's some wheelspin evident and I've seen 0-200km/h times considerably quicker.
It's absolutely quicker to 300km/h than the Mclaren P1.
I'm not particularly au fait with it's track performances but apparently it hasn't lived up to expectations.
I ran calculations and theoretically it's possible to achieve just under 240MPH.
Gearing from ratio's I've seen at Automobile Catalogue indicate that it's geared for way more.
Experience tells with the extra power but increased downforce it might achieve 225MPH if the electronically limited speed inhibitor is removed.
The figures are impressive. But the Ferrari SF90 edges it out. It's expected as it's a sophisticated hybrid and has much more power.
Either way the best performing currently available "traditional" supercar and I've no idea what's going to beat it out eventually. I don't care either. It happens to everything!
Wow, just wow! Oo
---
---
---
Lambolover 6d ago @ChironSS
Since the text is in russian idk if it's tuned but I also can't find any dyno runs or anything that says this car is tuned or has a stage 2 tune but it clearly has an exhaust
---