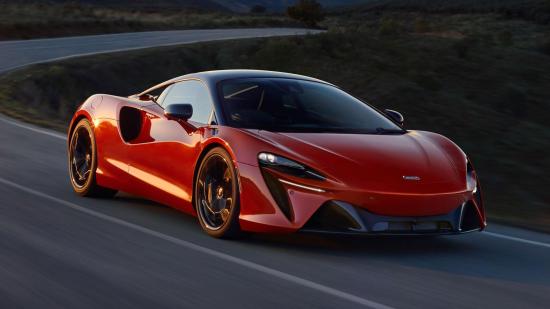 | | |
| --- | --- |
| Car type | Coupe |
| Curb weight | 1498 kg (3303 lbs) |
| Dimensions | 4.54 m (179 in) long, 1.98 m (78 in) wide, 1.19 m (47 in) high |
| Wheelbase | 2.64 m (104 in) |
| Introduced | 2022 |
| Origin country | United Kingdom |
| Views | 635 |
| Submitted by | tyler |
Performance
| | |
| --- | --- |
| 0 - 100 kph | 3.0 s |
| 0 - 200 kph | 8.3 s |
| 0 - 300 kph | 21.5 s |
| Est. 1000 m | 19.3 s @ 291.0 kph |
| Est. 100 - 200 kph | 5.3 s |
| Est. 200 - 300 kph | 13.2 s |
| Est. 0 - 60 mph | 2.9 s |
| Est. 1/8 mile | 7.1 s @ 113.7 mph |
| Est. 1/4 mile | 10.7 s @ 142.3 mph |
| Est. 1/2 mile | 16.8 s @ 172.7 mph |
| Top speed | 330 kph (205 mph) |
| Est. max acceleration | 1.01 g (10 m/s²) |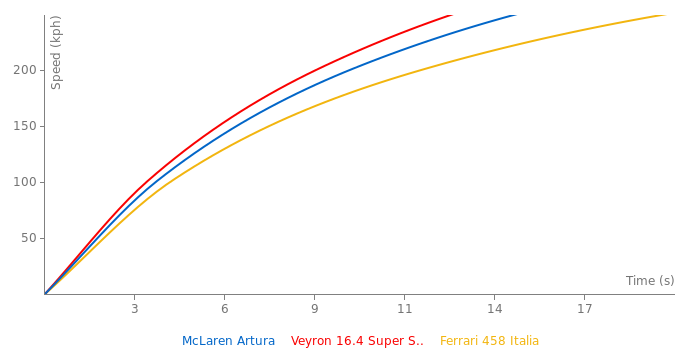 Powertrain specs
Engine type
3.0-liter V-6 engine,1 electric motor
Displacement

3.0 l (183 ci)

Power

680 ps (671 bhp / 500 kw)

@ 7500 rpm
Torque

720 Nm (531 lb-ft)

@ 2250 rpm
Power / liter

227 ps (224 hp)

Power / weight

454 ps (448 bhp) / t

Torque / weight

481 Nm (355 lb-ft) / t

Transmission
8-speed + E-Reverse Seamless Shift Gearbox(SSG)
Layout
middle engine, rear wheel drive
Artura competition
---
Tommi95 2m ago
This seems like a good rival for the MC20 and the 992 Turbo S, only a lot greener
---
blindasabat 2m ago
Spec wise looks amazing, but also looks like any other mclaren.
---
gegt 2m ago
makes maserati mc20 dead at arrival, but i would still choose it instead. mclarens all looks kinda egg-shaped, and only long versions are somewhat beautiful
---
hostboy 2m ago
0-62mph: 2.8sec
0-124mph: 8.3sec
¼-mile: 10.7sec
Official claims by McLaren. Quite strange actually considering the Ferrari 488 GTB had the same 0-124, but had a slower 0-60 AND a quicker 1/4-mile time. Even the Dodge Charger Redeye does 0-62 in 3.7 and 0-124 in high 9s/low 10s, but does the 1/4-mile in 10.6.
---