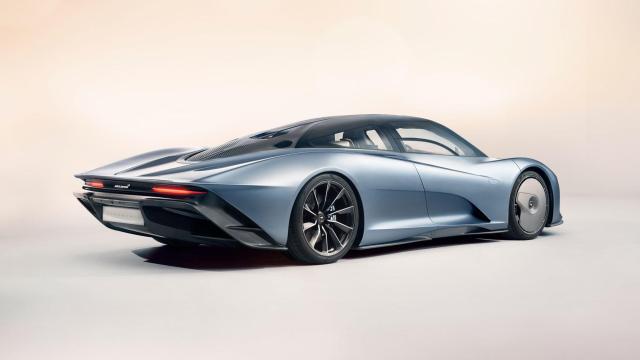 McLaren Speedtail specs
| | |
| --- | --- |
| Car type | Coupe |
| Curb weight | 1430 kg (3153 lbs) |
| Introduced | 2019 |
| Origin country | United Kingdom |
| Views | 1.5k |
| Submitted by | benedekpuskas |
Powertrain
| | |
| --- | --- |
| Engine type | V8, electric motor |
| Displacement | 4.0 l (244 ci) |
| Power | 1049 ps (1035 bhp / 772 kw) |
| Torque | 1150 Nm (848 lb-ft) |
| Power / liter | 262 ps (259 hp) |
| Power / weight | 734 ps (724 bhp) / t |
| Torque / weight | 804 Nm (593 lb-ft) / t |
| Transmission | automatic |
| Layout | middle engine, rear wheel drive |
Speedtail rivals
---
Cocobe 6m ago
honestly, I really don't know what this car is for. It's more than 2ft longer than a Mclaren 720s/P1. It'll be difficult to drive in the city/daily. On the track, it has too much power and not enough grip, a Mclaren 620R would probably be MUCH better, especially its designed to fit with slicks. It doesn't have the highest speed. It also doesn't have AWD so it won't be the fastest for drag races. The only thing it'll be best at, is rolling drag races. That's a bit too niche market if you ask me.
---
---
aaayy 7m ago
Can someone do a simulation for acceleration on this thing? I'm guessing 0-60 in 2.4 seconds.
---
FastestLaps 7m ago
Only very basic power/weight type calculation can be done, assuming some arbitrary coefficient of drag.
This is not going to be made for acceleration, although it will accelerate very well in the higher speed ranges, due to low drag (if it really is as low drag as it looks).
---