| | |
| --- | --- |
| Price in Europe | €47,432 - €68,776 |
| Car type | Compact |
| Curb weight | 1564-1686 kg (3448-3717 lbs) |
| Introduced | 2018 |
| Origin country | Germany |
| Gas mileage | 37.6-6.8 l/100 km (6-35 mpg US / 8-42 mpg UK) |
| Views | 12k |
| Submitted by | rhs1992 |
Performance
| | |
| --- | --- |
| 0 - 40 kph | 1.5 s |
| 0 - 50 kph | 1.8 s |
| 0 - 60 kph | 2.1 s |
| 0 - 80 kph | 3.3 s |
| 0 - 100 kph | 4.6 s |
| 0 - 110 kph | 5.5 s |
| 0 - 120 kph | 6.5 s |
| 0 - 130 kph | 7.6 s |
| 0 - 140 kph | 8.6 s |
| 0 - 150 kph | 9.9 s |
| 0 - 160 kph | 11.0 s |
| 0 - 180 kph | 15.1 s |
| 0 - 200 kph | 18.7 s |
| 0 - 250 kph | 46.0 s |
| 1000 m | 24.0 s @ 217.0 kph |
| 0 - 60 mph | 4.5 s |
| 0 - 100 mph | 11.0 s |
| Est. 1/8 mile | 9.3 s @ 92.0 mph |
| 1/4 mile | 13.0 s @ 105.3 mph |
| 1/2 mile | 21.0 s |
| Top speed | 253 kph (157 mph) |
| Est. 0 - 100 mph - 0 | 19.5 s @ 1706 ft |
| Est. max acceleration | 0.64 g (6 m/s²) |
| 18m slalom | 69.7 kph (43.3 mph) |
| Emissions | 206 g/km |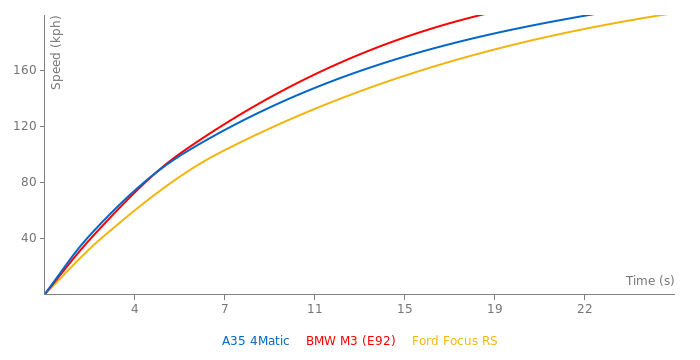 Powertrain specs
Engine type
straight 4
Displacement

2.0 l (121 ci / 1991 cc)

Power

306 ps (302 bhp / 225 kw)

Torque

400 Nm (295 lb-ft)

@ 3000 rpm
Power / liter

154 ps (152 hp)

Power / weight

191 ps (189 bhp) / t

Torque / weight

250 Nm (184 lb-ft) / t

Efficiency
26 PS per l/100 km
Power / €5000

29 ps

Transmission
7 speed Dual clutch
Layout
front engine, all wheel drive
Rolling acceleration
| | |
| --- | --- |
| 60 - 100 kph (4) | 3.8 s |
| 60 - 100 kph (5) | 5.8 s |
| 80 - 120 kph (4) | 4.2 s |
| 80 - 120 kph (5) | 5.5 s |
| 80 - 120 kph (6) | 8.0 s |
| 80 - 120 kph (7) | 13.6 s |
| 80 - 150 kph (6) | 15.0 s |
| 80 - 160 kph (5) | 12.1 s |
| 80 - 160 kph (6) | 17.3 s |
| 80 - 160 kph (7) | 27.1 s |
| 140 - 200 kph (6) | 15.7 s |
| 60 - 100 kph | 2.6 s |
| 70 - 90 kph | 2.5 s |
| 70 - 100 kph | 3.3 s |
| 70 - 120 kph | 5.1 s |
| 70 - 130 kph | 6.1 s |
| 70 - 140 kph | 5.5 s |
| 80 - 120 kph | 3.2 s |
| Est. 100 - 140 kph | 4.1 s |
| 100 - 200 kph | 13.9 s |
Interior noise
| | |
| --- | --- |
| Noise @ 50 kph | 60 dB |
| Noise @ 80 kph | 69 dB |
| Noise @ 100 kph | 67 dB |
| Noise @ 130 kph | 69 dB |
| Noise @ 160 kph | 76 dB |
A35 4Matic competition
More Mercedes - AMG cars
21
---
---
---
greedypiggy 2y ago
more evidence 0-60 dont mean a thing with lap times, renaults megane thrashes this on track.
---
Fossy 2y ago
Not if you look at the lap times
---
Kevlad 1y ago @Fossy
No. The Megane RS Trophy 300 is 5 seconds quicker round Hockenheim GP, 2 seconds quicker round Ring Knutstorp and 3.5 seconds quicker round Sachsenring. Even the old Megane RS 275 is faster than the A35 around a lot of tracks including the Sachsenring and Tsukuba circuits.
---
---