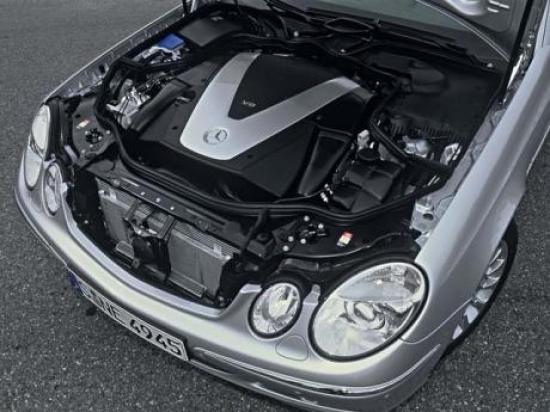 | | |
| --- | --- |
| Car type | 4-door saloon |
| Curb weight | 1890 kg (4167 lbs) |
| Introduced | 2005 |
| Origin country | Germany |
| Fuel consumption | 13.0-8.9 l/100 km (18-26 mpg US / 22-32 mpg UK) |
| Views | 17.7k |
Performance
| | |
| --- | --- |
| 0 - 100 kph | 6.1 s |
| 0 - 200 kph | 23.4 s |
| 1000 m | 25.8 s |
| 70 - 120 kph | 4.4 s |
| Est. 100 - 200 kph | 17.3 s |
| Est. 0 - 60 mph | 5.7 s |
| 0 - 100 mph | 14.3 s |
| Est. 1/8 mile | 10.0 s @ 85.1 mph |
| 1/4 mile | 14.3 s |
| Est. 1/2 mile | 23.3 s @ 124.3 mph |
| Top speed | 250 kph (155 mph) |
| Est. max acceleration | 0.51 g (5 m/s²) |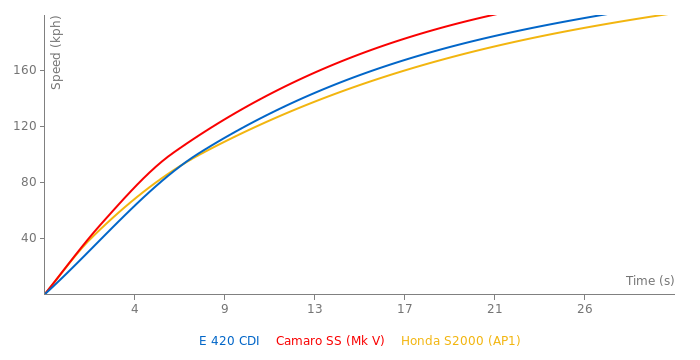 Powertrain specs
| | |
| --- | --- |
| Engine type | V8, Turbodiesel, 32 valves, DOHC |
| Displacement | 4.0 l (244 ci) |
| Power | 314 ps (310 bhp / 231 kw) |
| Torque | 730 Nm (538 lb-ft) |
| Power / liter | 79 ps (77 hp) |
| Power / weight | 166 ps (164 bhp) / t |
| Torque / weight | 386 Nm (285 lb-ft) / t |
| Efficiency | 29 PS per l/100 km |
| Transmission | 7 AT |
| Layout | front engine, rear wheel drive |
E 420 CDI competition
More Mercedes-Benz cars
674
Harri Heiskanen 2y ago
What do you think about my 420cdi? Optimised to 417hp/1004Nm torq. What can 0-100kph (dyno)be? Have never tried????.
---
FastestLaps 2y ago
I think a direct injection turbo diesel V8 is as awesome as it gets and I would prefer it over far more powerful petrol v8 turbo.
But, in my opinion, powerful diesel engines are not for acceleration times. They are rather for effortless fast cruising and pretty damn sweet roll on acceleration when you need it.