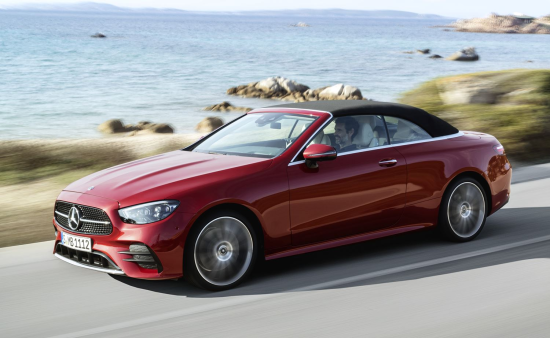 Mercedes-Benz E 450 Cabriolet (A238 facelift) specs
| | |
| --- | --- |
| Price in Europe | €74,655 - €79,177 |
| Price in US | $75,500 - $87,410 |
| Car type | Convertible |
| Curb weight | 2048-2050 kg (4515-4519 lbs) |
| Introduced | 2021 |
| Origin country | Germany |
| Gas mileage | 9.4 l/100 km (25 mpg US / 30 mpg UK) |
| Views | 165 |
| Submitted by | Hoppelmoppel123 |
Acceleration
| | |
| --- | --- |
| 0 - 50 kph | 1.9 s |
| 0 - 100 kph | 4.9 s |
| 0 - 150 kph | 10.0 s |
| 0 - 200 kph | 18.5 s |
| Est. 100 - 200 kph | 13.6 s |
| 0 - 30 mph | 1.6 s |
| 0 - 40 mph | 2.3 s |
| 0 - 50 mph | 3.3 s |
| 0 - 60 mph | 4.4 s |
| 0 - 70 mph | 5.9 s |
| 0 - 80 mph | 7.4 s |
| 0 - 90 mph | 9.5 s |
| 0 - 100 mph | 11.8 s |
| Est. 1/8 mile | 9.2 s @ 92.0 mph |
| 1/4 mile | 13.1 s @ 104.8 mph |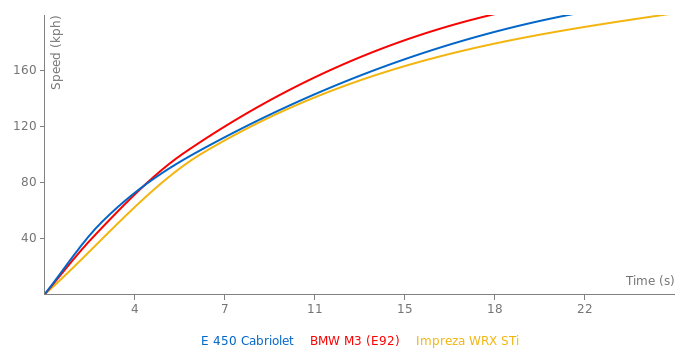 General performance
| | |
| --- | --- |
| Top speed | 250 kph (155 mph) |
| Est. max acceleration | 0.64 g (6 m/s²) |
| 18m slalom | 65.5 kph (40.7 mph) |
| Emissions | 223 g/km |
| Lateral acceleration | 0.88 g (9 m/s²) |
| 50 kph - 0 | 10 m (31 ft) |
| 100 kph - 0 | 35 m (115 ft) |
| 60 mph - 0 | 40 m (130 ft) |
| Noise @ idle | 39 dB |
| Noise @ 50 kph | 58 dB |
| Noise @ 100 kph | 63 dB |
| Noise @ 130 kph | 68 dB |
Powertrain specs
| | |
| --- | --- |
| Engine type | Inline 6 Turbo Mild-Hybrid |
| Displacement | 3.0 l (183 ci / 2999 cc) |
| Power | 367 ps (362 bhp / 270 kw) |
| Torque | 500 Nm (369 lb-ft) |
| Power / liter | 122 ps (121 hp) |
| Power / weight | 179 ps (177 bhp) / t |
| Torque / weight | 244 Nm (180 lb-ft) / t |
| Efficiency | 39 PS per l/100 km |
| Power / €5000 | 24 ps |
| Transmission | 9 speed automatic |
| Layout | front engine, all wheel drive |
More Mercedes-Benz cars
691
---
---
FastestLaps 2m ago @Corvolet3
Much bigger. 259 horsepower vs 367 horsepower.
---
ChironSS 2m ago
Mt FLT look what I found whislt benchmarking and cross referencing!>
http://performancecarstats.co.uk/
I've checked a few tests and verified times out and it's looking thus far legitimate.
It's brought back loads of cars to life!
Enjoy!
---
flt158 2m ago
Hello to you all here on Fastest Laps.
I appear to be having difficulty checking what Mercedes E class Cabriolet Autocar is testing in their latest issue (6th October 2021). My local newsagent is saying the issue is coming from Northern Ireland and it hasn't received any copy yet. Baa!
But Autocar might be testing this car - the Mercedes E450 Cabriolet. But I honestly do not know.
Can I ask Fastest Laps or Hoppelmoppel123 to verify?
Any help will be greatly appreciated. Thank you!
Maybe it's another Mercedes E class Cabriolet.
I'm guessing blindly.
Very best regards from Flt 158.
---
FastestLaps 2m ago
It is "Mercedes-Benz E300 AMG Line Night Edition Premium Plus Cabriolet". I will add performance data tomorrow!
---
dr. cosimo 2m ago @FastestLaps
you will add the eco baby e300 and ditch the v8 cl 500 ?
so greta of you