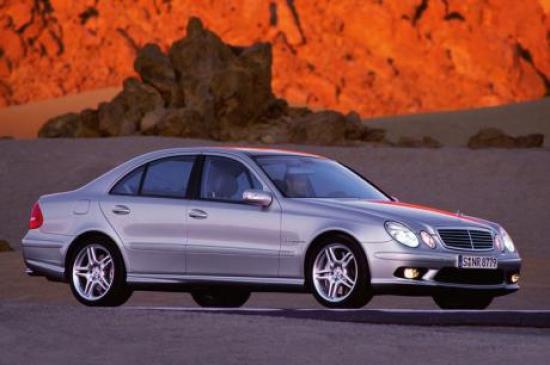 | | |
| --- | --- |
| Car type | 4-door saloon |
| Curb weight | 1953 kg (4306 lbs) |
| Introduced | 2002 |
| Origin country | Germany |
| Views | 79.3k |
Performance
| | |
| --- | --- |
| 0 - 100 kph | 4.7 s |
| 0 - 200 kph | 15.3 s |
| Est. 100 - 200 kph | 10.6 s |
| 0 - 60 mph | 4.2 s |
| 0 - 100 mph | 9.7 s |
| 0 - 150 mph | 24.5 s |
| Est. 1/8 mile | 9.0 s @ 95.7 mph |
| 1/4 mile | 12.4 s |
| Top speed | 250 kph (155 mph) |
| Est. max acceleration | 0.65 g (6 m/s²) |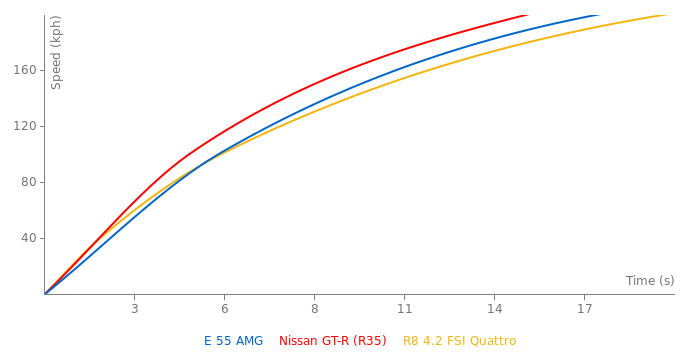 Powertrain specs
| | |
| --- | --- |
| Engine type | V8, Supercharged, 24v |
| Displacement | 5.4 l (330 ci) |
| Power | 476 ps (469 bhp / 350 kw) |
| Torque | 700 Nm (516 lb-ft) |
| Power / liter | 88 ps (87 hp) |
| Power / weight | 244 ps (240 bhp) / t |
| Torque / weight | 358 Nm (264 lb-ft) / t |
| Transmission | 5 |
| Layout | front engine, rear wheel drive |
E 55 AMG competition
More Mercedes-Benz cars
482
Viper HaaHaa 8y ago
@audir8
dragtimes is no source
---
Brad 9y ago
Both awesome cars though, I think wasted is the wrong word for the 210.. beaten yes and you'd hope so! But wasted.. NO.. we'll leave that for the crappier BMW M3 and their typical arse BMW owners.. Go AMG 210 or 211!
---
Brad 9y ago
I wasted a W210 E55 in my W211 55 1 mile. Bit quicker than the M3's i've beat but not nearly as quick.
---
---

---
OK55 12y ago
Virtually identical times around the short Hockenheim for the E55 W211 and the W210 E55? With a power difference of 122 hp? Something's amiss with these figures here...
---