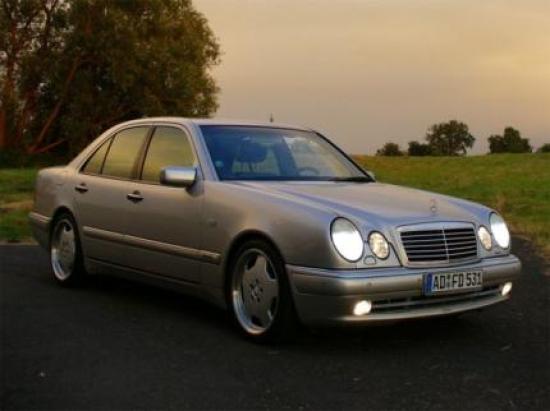 | | |
| --- | --- |
| Car type | 4-door saloon |
| Curb weight | 1724 kg (3801 lbs) |
| Introduced | 1997 |
| Origin country | Germany |
| Views | 19.7k |
Performance
| | |
| --- | --- |
| 0 - 100 kph | 5.8 s |
| 0 - 200 kph | 21.6 s |
| Est. 100 - 200 kph | 15.8 s |
| Est. 0 - 60 mph | 5.4 s |
| 0 - 100 mph | 13.1 s |
| Est. 1/8 mile | 9.8 s @ 87.0 mph |
| Est. 1/4 mile | 15.0 s @ 108.1 mph |
| Top speed | 250 kph (155 mph) |
| Est. max acceleration | 0.54 g (5 m/s²) |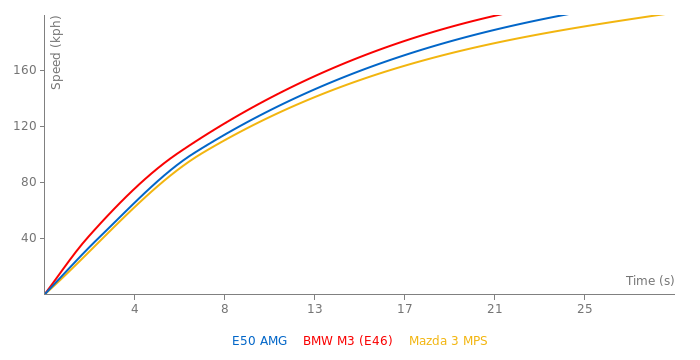 Powertrain specs
| | |
| --- | --- |
| Engine type | V8, 32 valves |
| Displacement | 5.0 l (303 ci / 4973 cc) |
| Power | 347 ps (342 bhp / 255 kw) |
| Torque | 480 Nm (354 lb-ft) |
| Power / liter | 70 ps (69 hp) |
| Power / weight | 201 ps (199 bhp) / t |
| Torque / weight | 278 Nm (205 lb-ft) / t |
| Transmission | 5 automatic |
| Layout | front engine, rear wheel drive |
E50 AMG competition
More Mercedes-Benz cars
461
falconie 2m ago
i would like to know exacly how much the mercedes-benz E50 AMG is worth today
---
FastestLaps 2m ago
Entirely depends on condition. Rust was serious problem for these cars.
---
---
Hoppelmoppel123 2m ago @Corvolet3
In great condition 20.7k , with light issues 10k and if its starting to rust 5k if you live in germany
---
Anonymous 13y ago
0-100 data is from Auto Motor und Sport 9/96. The oficially AMG figure is 6.2 s.