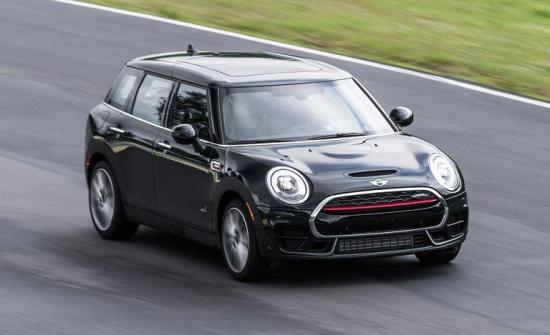 Mini Clubman John Cooper Works ALL4 specs
| | |
| --- | --- |
| Car type | Estate/vagon |
| Curb weight | 1595 kg (3516 lbs) |
| Introduced | 2017 |
| Origin country | Germany |
| Views | 2.3k |
| Submitted by | tyler |
Powertrain specs
| | |
| --- | --- |
| Engine type | turbocharged inline-4 |
| Displacement | 2.0 l (122 ci) |
| Power | 231 ps (228 bhp / 170 kw) |
| Torque | 350 Nm (258 lb-ft) |
| Power / liter | 116 ps (114 hp) |
| Power / weight | 145 ps (143 bhp) / t |
| Torque / weight | 219 Nm (162 lb-ft) / t |
| Transmission | 6-speed manual |
| Layout | front engine, all wheel drive |
Clubman John Cooper Works ALL4 competition
---

Inline 6 rules 4y ago
This car is a shame for both Mini and John Cooper Works!
Mini should produce small and light cars not fat crossovers. And John Cooper Works should be all about powerful yet light and small cars. John Cooper is breakdancing in his coffin!
---

Inline 6 rules 4y ago
1.6 ton Mini.
1.6 FREAKING TON Mini!!!
What's next? 2 ton Fiat 500?
---