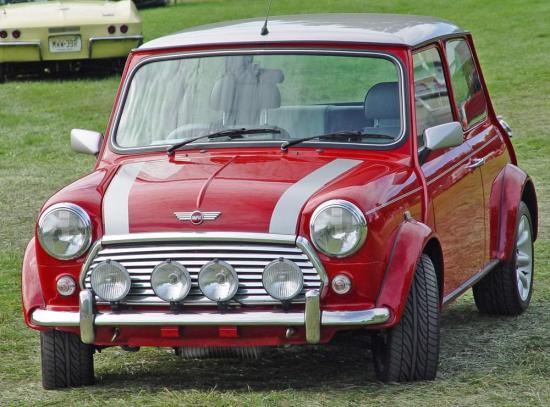 Mini Cooper S (Austin) specs
| | |
| --- | --- |
| Car type | Compact |
| Curb weight | 698 kg (1539 lbs) |
| Dimensions | 3.05 m (120 in) long, 1.41 m (56 in) wide, 1.35 m (53 in) high |
| Wheelbase | 2.04 m (80 in) |
| Introduced | 1969 |
| Origin country | United Kingdom |
| Views | 18.7k |
| Submitted by | Super8 |
Powertrain specs
Engine type
BMC A-series Straight 4
Displacement

1.3 l (78 ci / 1275 cc)

Power

77 ps (76 bhp / 57 kw)

@ 6000 rpm
Torque

108 Nm (80 lb-ft)

@ 3000 rpm
Power / liter

60 ps (60 hp)

Power / weight

110 ps (109 bhp) / t

Torque / weight

155 Nm (114 lb-ft) / t

Transmission
4 Speed Manual
Layout
front engine, front wheel drive
Cooper S competition
dr. cosimo 2m ago
most bikers believe they're invincible until..... 3:45 :)
---

---
Sebastian Jackson 1y ago
8 years on I know, but knew minis have always been manufactured in the UK, Oxford. Apart from irregular mods e.g. Clubman, Countryman.
---

Fangio Man 9y ago
I love this little thing!
Looks so fun to drive and looks cool!
It is a pity the new Minis lost what the old Mini had.
---
Brian Laidd 1y ago
I had one from new. Cornered on rails. Stopped by the police, the cop said I can't give you a ticket for speeding because you were so fast through the corners I couldn't keep up with you.
---
---
PeterN 10y ago
This is probably the greatest car ever made. ( or maybe jag e type, golf gti mk1, Ferrari 250 gto.)
---
anonymal 11y ago
the performance is great. for a 1969 car, low price car. the really first gti? who knows?
---
anonymal 11y ago
can someone put some performance stats or whatever. Best car ever made.
---