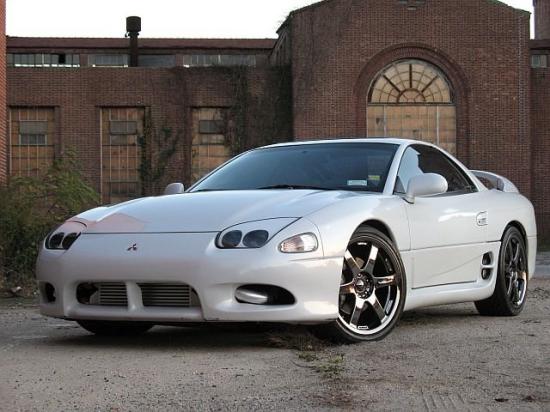 Mitsubishi 3000 GT VR4 (facelift) specs
| | |
| --- | --- |
| Car type | Coupe |
| Curb weight | 1725 kg (3803 lbs) |
| Dimensions | 4.56 m (180 in) long, 1.84 m (72 in) wide, 1.25 m (49 in) high |
| Wheelbase | 2.47 m (97 in) |
| Introduced | 1994 |
| Origin country | Japan |
| Views | 17.7k |
| Submitted by | Super8 |
Powertrain specs
Engine type
Mitsubishi Cyclone-series V6 6G72
Displacement

3.0 l (181 ci / 2972 cc)

Power

324 ps (320 bhp / 239 kw)

@ 6000 rpm
Torque

427 Nm (315 lb-ft)

@ 2500 rpm
Power / liter

109 ps (108 hp)

Power / weight

188 ps (186 bhp) / t

Torque / weight

248 Nm (183 lb-ft) / t

Transmission
Getrag 6 speed Manual
Layout
front engine, rear wheel drive
3000 GT VR4 competition
Ben 2y ago
It says: Layout front engine, rear wheel drive. But it is 4 wheel drive with a sideways v6 front engine.
---
Vr4 owner 3y ago
This car does 0 to 60 in 4.8s to 5.0s and the 1/4m in 13.0s to 13.6s @ 101 to 104 mph.
Bad information here. The 1994 and up models are faster than the 300ZX TT and RX7 TT by quite a large margin.
---
---
FactChecker 2y ago @Kris W208
---
Alfonso Zavala 1y ago
My 1992 3000GT vr4 used to do 106 with 91. octane but when we use Sunoco race fuel 110 octane they was doing a 112 in the 1/4 mile no quarter mile time because we ran in the track for free during the week nothing was operational innotrac in (Mexico sonoyta sonora) my YouTube videos (pista hermanos Duartes mitsubishi 3000gt) just type that name in there and you should see my videos
---
---
Kris W208 3y ago
Dodge Stealth was built based on 3000 GT just like Eagle Talon was based on the Eclipse.
---
---
Kris W208 3y ago
Japanese MR/VR4 were the fastest versions not the none JDM spec. Japanese spec cars usually had around 10HP more due to less restrictive emission rules.