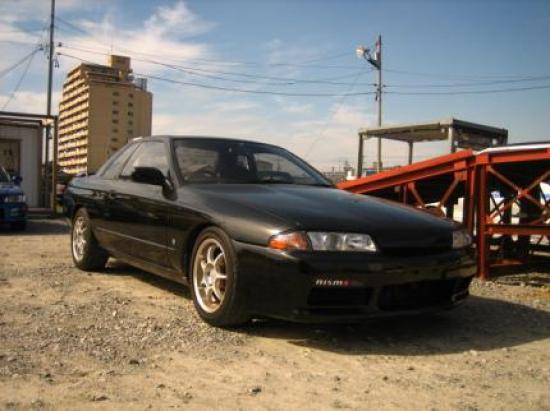 Nissan Skyline GTS-T R32 specs
| | |
| --- | --- |
| Car type | Coupe |
| Curb weight | 1260 kg (2778 lbs) |
| Introduced | 1989 |
| Origin country | Japan |
| Views | 32.7k |
| Submitted by | Heyhuub |
Performance
| | |
| --- | --- |
| 1/4 mile | 15.1 s |
| Top speed | 180 kph (112 mph) |
Powertrain specs
| | |
| --- | --- |
| Engine type | Inline 6, Turbocharged, 24v |
| Displacement | 2.0 l (122 ci) |
| Power | 215 ps (212 bhp / 158 kw) |
| Torque | 265 Nm (195 lb-ft) |
| Power / liter | 107 ps (106 hp) |
| Power / weight | 170 ps (168 bhp) / t |
| Torque / weight | 210 Nm (155 lb-ft) / t |
| Transmission | 5 Manual |
| Layout | front engine, rear wheel drive |
Skyline GTS-T R32 competition
ooo 1y ago
i hate nissan gtr bc the not fast skline very fast has so much power
---
Kenny 6y ago
i am running 14.6 in a 1/4 mile at 98 mph, with only mines ecu, intake and exhaust.
---
idk 13y ago
isnt it 2.5L? I thought it had a RB25, or is that the later GTS's
---

---
Anonymous 14y ago
I..I wouldnt say IMPOSSIBLE but i understand what your saying..
---
---