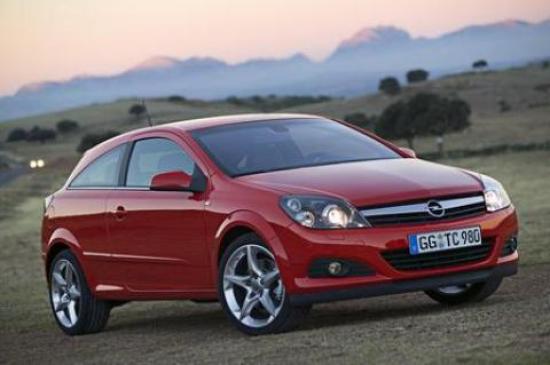 Opel Astra GTC 2.0T specs
| | |
| --- | --- |
| Car type | Compact |
| Curb weight | 1348 kg (2972 lbs) |
| Introduced | 2004 |
| Origin country | Germany |
| Views | 26.2k |
Performance
| | |
| --- | --- |
| 0 - 100 kph | 7.2 s |
| 0 - 200 kph | 32.8 s |
| Est. 1000 m | 29.7 s @ 194.0 kph |
| Est. 100 - 200 kph | 25.6 s |
| Est. 0 - 60 mph | 6.7 s |
| 0 - 100 mph | 17.9 s |
| Est. 1/8 mile | 10.7 s @ 79.5 mph |
| Est. 1/4 mile | 16.9 s @ 100.0 mph |
| Est. 1/2 mile | 26.0 s @ 116.2 mph |
| Top speed | 234 kph (145 mph) |
| Est. max acceleration | 0.44 g (4 m/s²) |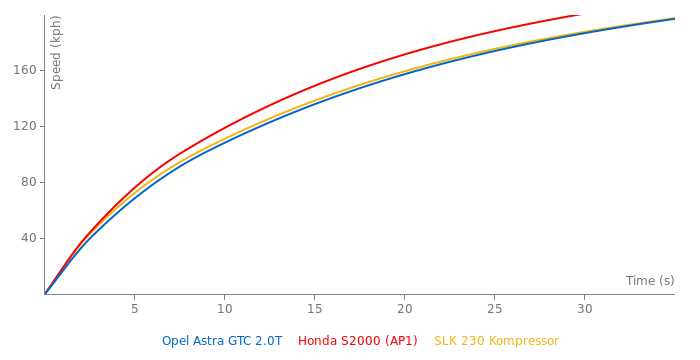 Powertrain specs
| | |
| --- | --- |
| Engine type | Inline 4, Turbocharged, 16v |
| Displacement | 2.0 l (122 ci) |
| Power | 200 ps (197 bhp / 147 kw) |
| Torque | 262 Nm (193 lb-ft) |
| Power / liter | 100 ps (99 hp) |
| Power / weight | 148 ps (146 bhp) / t |
| Torque / weight | 194 Nm (143 lb-ft) / t |
| Transmission | 6 |
| Layout | front engine, front wheel drive |
Astra GTC 2.0T competition
---

benedekpuskas 2y ago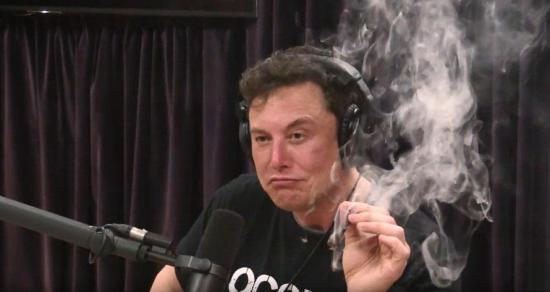 ---
FastestLaps 2y ago
Mistake. I will merge the other ones data into this one.
---
opel 13y ago
السيارة حلوة كتييييييييييير واقوى من منافسيها 200 حصان لهيك سيارة سيارة قوية جدا
---
Speed 14y ago
You always get 1 anonymous idiot that makes stupid comments Polo GTi better performer lmao
Walter this guys need to chequein a mental institute
---
Anonymous 15y ago
Opel gtc overated,
The polo gti and seat ibiza cupra much better performers and give a sportier feel with the ride.
No thanks, Waiter, cheque please!
---
Ulven 15y ago
Performance from Auto motor und sport: 0-100 km/h 7,2 sek and
0-200 km/h 32,8 sek.