"On 1st November 2022 at precisely 14:34:37 UTC, Battista accelerated from 0-200 km/h in 4.75 seconds – a new record for a production car.
The time was achieved at the Nardo test facility in Southern Italy with a production-ready Battista fitted with standard-fit @michelin Pilot Sport Cup 2 R tyres.
On the same day, Battista also achieved the following results.
0-60 mp/h in 1.79 seconds
0-100 km/h in 1.86 seconds
0-120 mp/h in 4.49 seconds
0-200 km/h in 4.75 seconds
A few weeks later, Battista repeated the astonishing 0-200 km/h performance during testing at the Dubai Autodrome, cementing its status as the world's fastest-accelerating production road car.
PininfarinaBattista #Battista #ElectricHyperGT #EV #HyperGT #EVAcceleration #AccelerationRecord #Acceleration #WorldRecord #Record #ElectricLuxuryCars #ElectricLuxury #LuxuryCars #Michelin #FutureTech #FutureTechnology #Nardo #Italy #Dubai #MiddleEast
Vehicle range: 476 km (296 miles, WLTP combined rating), US EPA: 300 miles combined electric power consumption in kWh/100 km: 27.7 (WLTP); combined CO2 emissions in g/km: 0 (Information on power consumption and CO2 emissions in ranges depending on the chosen equipment level of the vehicle)."
https://m.facebook.com/story.php?story_fbid=pfbid027CoNZtbuCenkPL49GPNCNyYhmepSNWQHt9AEe2yW6eWY4x4oe9Hjg2cEnCT3jarZl&id=100025107980874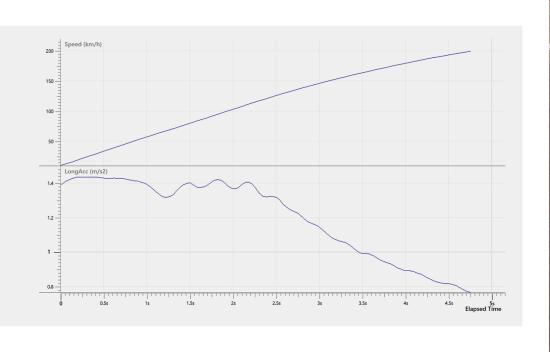 Well done Pininfarina Automobili releasing the GPS verified graphs for the stunningly beautiful production hypercar Battista.
🙂