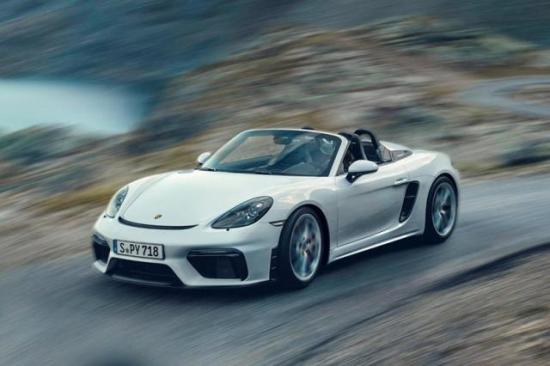 Porsche 718 Spyder specs
| | |
| --- | --- |
| Price in Europe | €93,350 - €98,468 |
| Price in US | $97,650 - $120,530 |
| Car type | Convertible |
| Curb weight | 1418-1472 kg (3126-3245 lbs) |
| Introduced | 2019 |
| Origin country | Germany |
| Gas mileage | 14.4-8.0 l/100 km (16-29 mpg US / 20-35 mpg UK) |
| Views | 4.8k |
| Submitted by | fakekillerfour |
Acceleration (mph)
| | |
| --- | --- |
| 0 - 60 mph | 3.8 s |
| 0 - 100 mph | 8.7 s |
| 0 - 130 mph | 14.7 s |
| 0 - 150 mph | 21.6 s |
| Est. 1/8 mile | 8.5 s @ 98.8 mph |
| 1/4 mile | 12.0 s @ 118.0 mph |
| Est. 1/2 mile | 19.8 s @ 147.3 mph |
| Est. 1 mile | 32.4 s @ 172.1 mph |
Acceleration (kph)
| | |
| --- | --- |
| 0 - 60 kph | 2.0 s |
| 0 - 80 kph | 2.8 s |
| 0 - 100 kph | 3.8 s |
| 0 - 120 kph | 4.9 s |
| 0 - 130 kph | 6.5 s |
| 0 - 140 kph | 6.3 s |
| 0 - 160 kph | 8.0 s |
| 0 - 180 kph | 9.8 s |
| 0 - 200 kph | 12.1 s |
| Est. 1000 m | 23.1 s @ 251.0 kph |
| 40 - 60 kph | 0.7 s |
| 80 - 120 kph | 2.1 s |
| 100 - 140 kph | 2.8 s |
| 100 - 200 kph | 9.2 s |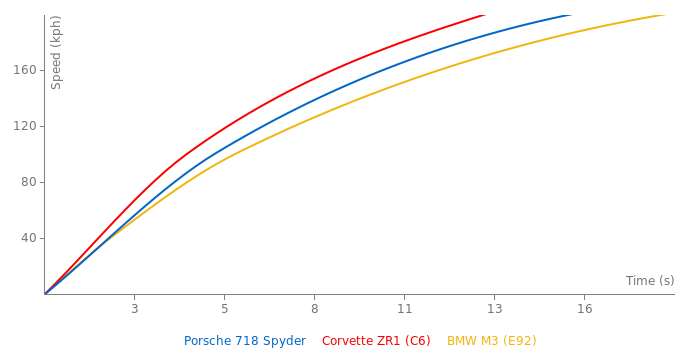 General performance
| | |
| --- | --- |
| Top speed | 301 kph (187 mph) |
| Est. max acceleration | 0.73 g (7 m/s²) |
| 18m slalom | 73.1 kph (45.4 mph) |
| Est. emissions | 206 g/km |
| Lateral acceleration | 1.08 g (11 m/s²) |
Powertrain specs
| | |
| --- | --- |
| Engine type | Flat-6 24 valve DOHC |
| Displacement | 4.0 l (244 ci) |
| Power | 420 ps (414 bhp / 309 kw) |
| Torque | 419 Nm (309 lb-ft) |
| Power / liter | 105 ps (104 hp) |
| Power / weight | 293 ps (289 bhp) / t |
| Torque / weight | 292 Nm (216 lb-ft) / t |
| Efficiency | 38 PS per l/100 km |
| Power / €5000 | 22 ps |
| Transmission | 6 speed manual |
| Layout | middle engine, rear wheel drive |
Interior noise
| | |
| --- | --- |
| Noise @ idle | 55 dB |
| Noise @ 80 kph | 71 dB |
| Noise @ 100 kph | 76 dB |
| Noise @ 130 kph | 77 dB |
| Noise @ 160 kph | 81 dB |
| Noise @ 180 kph | 84 dB |
718 Spyder competition
Hoppelmoppel123 2y ago
Sport Auto (8/2019):
0-100 kph: 4.4 s
Fuel: 10.9 l/100 km
---
flt158 3y ago
We appear to be having a supply problem over here in Ireland regarding the Autocar magazine. Our main provider Eason's is closed for business due to the Corona Virus. The current magazine has tested the Porsche 718 Spyder.
If anyone here on here Fastest Laps has received a copy, would you be willing to submit the acceleration figures and whatever else? We can then compare them to Car and Driver's. Thank you very much.
Let's keep washing our hands!
Safe driving,
Flt 158.
---
---
---
FastestLaps 3y ago
They gave you back the boxer 6 you had before the 718 generation, and they charged you extra for it (because everything got to get more expensive, right?)
---
Blake 2y ago @FastestLaps
It has 991 GT3 front sub frame, GT4 suspension, 8k revline in the 420ps motor with around 3000 pounds of dry weight. It's a GT level car.
---