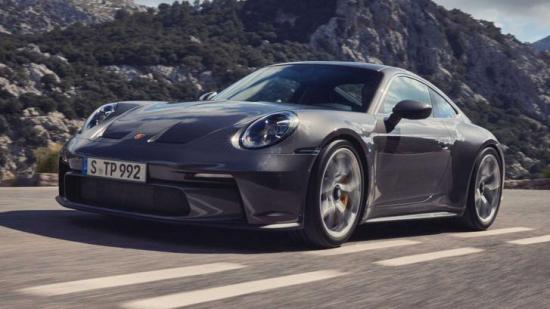 Porsche 911 GT3 Touring (992) specs
| | |
| --- | --- |
| Price in Europe | €170,969 - €194,412 |
| Car type | Coupe |
| Curb weight | 1455-1500 kg (3208-3307 lbs) |
| Introduced | 2021 |
| Origin country | Germany |
| Gas mileage | 12.8-12.3 l/100 km (18-19 mpg US / 22-23 mpg UK) |
| Views | 963 |
| Submitted by | benedekpuskas |
Acceleration
| | |
| --- | --- |
| 0 - 50 kph | 1.4 s |
| 0 - 80 kph | 2.4 s |
| 0 - 100 kph | 3.2 s |
| 0 - 130 kph | 4.8 s |
| 0 - 160 kph | 6.9 s |
| 0 - 180 kph | 8.8 s |
| 0 - 200 kph | 10.4 s |
| 0 - 250 kph | 17.2 s |
| Est. 1000 m | 21.4 s @ 266.0 kph |
| Est. 0 - 60 mph | 3.1 s |
| Est. 1/8 mile | 7.7 s @ 106.9 mph |
| 1/4 mile | 11.2 s |
| Est. 1/2 mile | 18.4 s @ 157.2 mph |
| Est. 1 mile | 29.9 s @ 178.3 mph |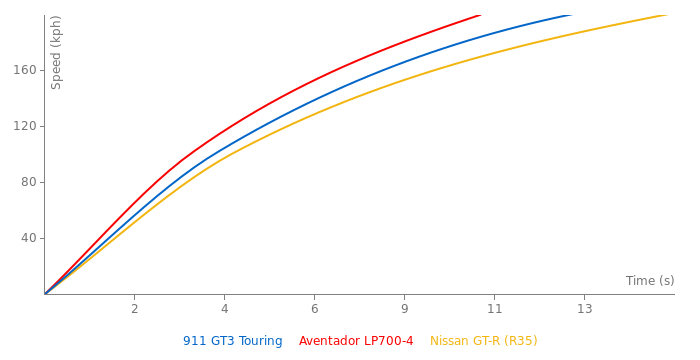 General performance
| | |
| --- | --- |
| Top speed | 320 kph (199 mph) |
| Est. 0 - 100 mph - 0 | 10.4 s @ 728 ft |
| Est. max acceleration | 0.93 g (9 m/s²) |
| Est. emissions | 294 g/km |
| 50 kph - 0 | 10 m (32 ft) |
| 100 kph - 0 | 32 m (105 ft) |
| 200 kph - 0 | 122 m (400 ft) |
Powertrain specs
Engine type
Flat-6, naturally aspirated
Displacement

4.0 l (244 ci / 3996 cc)

Power

510 ps (503 bhp / 375 kw)

@ 9000 rpm
Torque

470 Nm (347 lb-ft)

Power / liter

128 ps (126 hp)

Power / weight

346 ps (341 bhp) / t

Torque / weight

319 Nm (235 lb-ft) / t

Efficiency
41 PS per l/100 km
Power / €5000

14 ps

Transmission
6-speed manual or PDK
Layout
rear engine, rear wheel drive
Rolling acceleration
| | |
| --- | --- |
| 60 - 100 kph (4) | 4.5 s |
| 60 - 100 kph (5) | 5.7 s |
| 80 - 120 kph (5) | 5.6 s |
| 80 - 120 kph (6) | 7.0 s |
| 80 - 120 kph (7) | 8.2 s |
| 100 - 140 kph | 2.5 s |
| 100 - 200 kph | 7.7 s |
911 GT3 Touring competition
---
dr. cosimo 8m ago
in one of the blue states run by the old hag pelosi and her gang, where drugs are fine, the manual box is banned with the standard gt3, so pdk only lol
where are all the fools that wished so badly for sleepy joe to come into office ? probably pretending to be dead by now lol
---
FastestLaps 8m ago
There have been plenty fake cosimo posts but this one has to be genuine. Nobody can fake a comment involving pelosi, drugs and gt3 in the same sentece.
---
dr. cosimo 8m ago @FastestLaps
what do you expect to happen when dirty money comes in, to keep this place alive with all the support you can get from vw cheerleaders and behind the curtain directors ? angels to show up and direct you to the right path ? definitely not
as a professional doctor, i suggest you take a good look at this video and think about a healthy diet plan, if you want to live a longer life and see musk shit all over the world with his ev plans.
---
---
FastestLaps 8m ago
Gorgeous car but it embodies two terms - gt3 (track) and touring (gt) at odds with each other.
Either way - must be perfect driving machine. Especially with good old manual
---