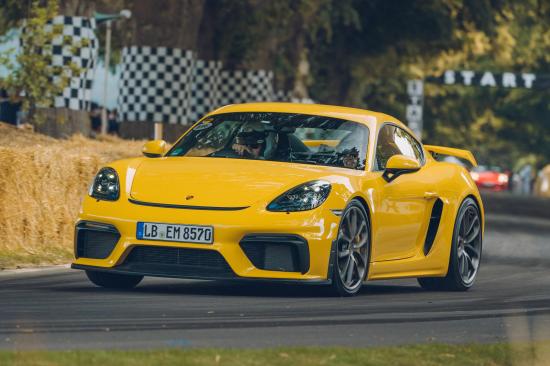 Porsche Cayman GT4 (718) specs
| | |
| --- | --- |
| Price in Europe | €94,971 - €124,249 |
| Price in US | $100,500 - $118,600 |
| Car type | Coupe |
| Curb weight | 1420-1541 kg (3131-3397 lbs) |
| Introduced | 2019 |
| Origin country | Germany |
| Gas mileage | 15.8-7.0 l/100 km (15-34 mpg US / 18-40 mpg UK) |
| Views | 10.8k |
| Submitted by | 777Balt |
Acceleration (mph)
| | |
| --- | --- |
| 0 - 30 mph | 1.5 s |
| 0 - 40 mph | 2.1 s |
| 0 - 50 mph | 3.0 s |
| 0 - 60 mph | 3.7 s |
| 0 - 70 mph | 4.6 s |
| 0 - 80 mph | 5.5 s |
| 0 - 90 mph | 7.0 s |
| 0 - 100 mph | 8.3 s |
| 0 - 110 mph | 9.8 s |
| 0 - 120 mph | 11.9 s |
| 0 - 130 mph | 14.0 s |
| 0 - 140 mph | 16.5 s |
| 0 - 150 mph | 20.4 s |
| 0 - 160 mph | 25.0 s |
| Est. 1/8 mile | 8.8 s @ 96.9 mph |
| 1/4 mile | 11.8 s @ 120.0 mph |
| Est. 1/2 mile | 20.1 s @ 145.4 mph |
| Est. 1 mile | 32.9 s @ 170.3 mph |
Acceleration (kph)
| | |
| --- | --- |
| 0 - 40 kph | 1.4 s |
| 0 - 50 kph | 1.6 s |
| 0 - 60 kph | 1.9 s |
| 0 - 80 kph | 2.8 s |
| 0 - 100 kph | 3.9 s |
| 0 - 130 kph | 5.7 s |
| 0 - 160 kph | 8.3 s |
| 0 - 180 kph | 11.0 s |
| 0 - 200 kph | 12.7 s |
| 0 - 220 kph | 16.9 s |
| 0 - 250 kph | 23.1 s |
| 1000 m | 21.5 s @ 246.0 kph |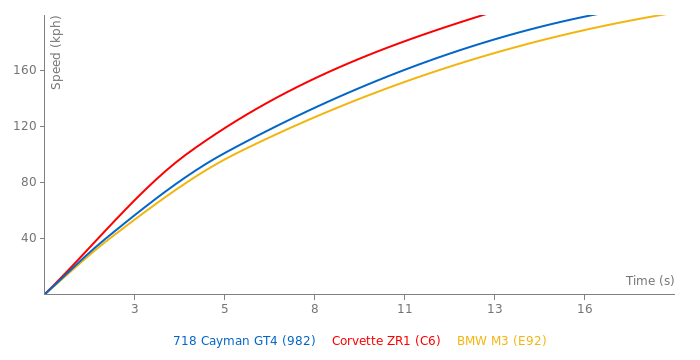 General performance
| | |
| --- | --- |
| Top speed | 304 kph (189 mph) |
| Est. 0 - 100 mph - 0 | 12.5 s @ 876 ft |
| Est. max acceleration | 0.68 g (7 m/s²) |
| 18m slalom | 74.5 kph (46.3 mph) |
| Est. emissions | 241 g/km |
| Lateral acceleration | 1.10 g (11 m/s²) |
| Downforce @ 300 kph | 122 kg (269 lbs) |
| Noise @ idle | 58 dB |
| Noise @ 50 kph | 68 dB |
| Noise @ 70 mph | 77 dB |
Powertrain specs
| | |
| --- | --- |
| Engine type | Naturally Aspirated flat-six |
| Displacement | 4.0 l (244 ci / 3995 cc) |
| Power | 420 ps (414 bhp / 309 kw) |
| Torque | 420 Nm (310 lb-ft) |
| Power / liter | 105 ps (104 hp) |
| Power / weight | 291 ps (287 bhp) / t |
| Torque / weight | 291 Nm (215 lb-ft) / t |
| Efficiency | 35 PS per l/100 km |
| Power / €5000 | 19 ps |
| Transmission | 6-speed manual |
| Layout | middle engine, rear wheel drive |
Rolling acceleration
| | |
| --- | --- |
| 60 - 100 kph (4) | 4.7 s |
| 60 - 100 kph (5) | 6.0 s |
| 80 - 120 kph (4) | 4.9 s |
| 80 - 120 kph (5) | 5.9 s |
| 80 - 120 kph (6) | 7.6 s |
| 80 - 120 kph (7) | 11.4 s |
| 80 - 160 kph (4) | 9.9 s |
| 80 - 160 kph (5) | 12.9 s |
| 80 - 160 kph (6) | 16.2 s |
| 80 - 160 kph (7) | 27.3 s |
| 70 - 90 kph | 4.3 s |
| 70 - 120 kph | 9.9 s |
| Est. 100 - 200 kph | 9.6 s |
Cayman GT4 competition
Tommi95 16h ago
Straight line acceleration from Quattroruote: 0-100:3.9s, 0-200: 12.7s, 400m: 11.8, 1km: 21.5s
---
tommi95 16h ago
Ok, these are the laptimes of the Cayman gt4 manual (1.13.946), bmw m2 CS (1.15.313), alpine a110s (1.17.029) at Vairano from 12/20 Quattroruote (I've already posted it under the page of the 992 turbo S, but this is the right place to post it).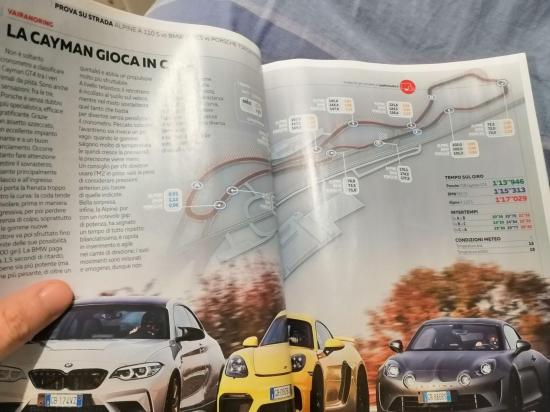 ---
Tommi95 14h ago
Actually the laptimes are pretty good:
basically the 718 cayman gt4 (manual) is nearly as fast as a 992 Carrera S with PDK, the bmw m2 cs is as fast as a 991.2 Carrera S PDK and the Alpine is as fast as a 718 Cayman PDK. Overall all 3 of them delivered a good performance, living up to the expectations
---
Hoppelmoppel123 2m ago
https://www.autogespot.de/porsche-718-cayman-gt4-rs-weissach-1/2020/09/18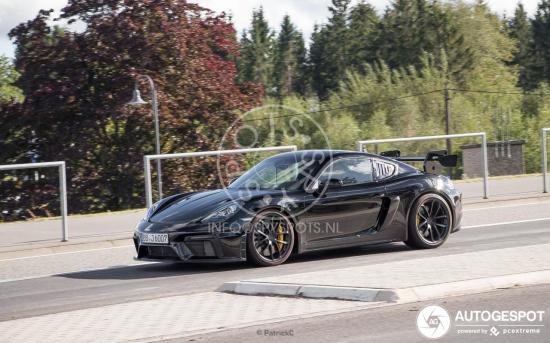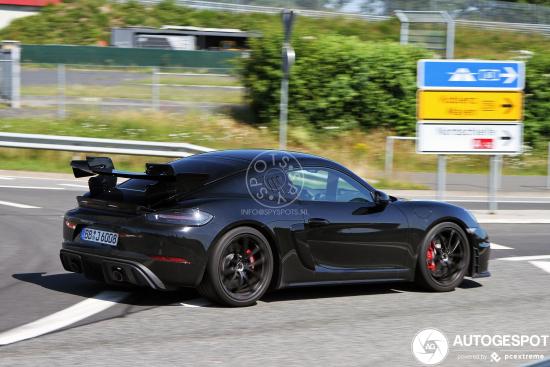 The Cayman GT4 RS Weissach Paket
---
---
adj 3m ago
the times are about to improve on all as the PDK is finally released
---
porschefan10 4m ago
Nürburgring Nordschleife the result is 7.28.00 exactly the same as carrera Gt please fix it.
---
FastestLaps 6m ago
July issue of Road & Track magazine has instrumented test of this car. Too bad every single figure is exactly the same as month earlier test of Car & Driver. Which can only mean they are re-publishing Car & Driver data, under some kind of agreement.
---