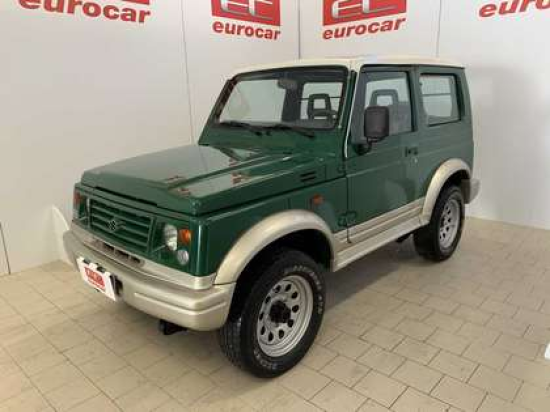 Suzuki Samurai SJ 1.9 TD VAN specs
| | |
| --- | --- |
| Car type | SUV/truck |
| Curb weight | 1005 kg (2216 lbs) |
| Introduced | 1998 |
| Origin country | Japan |
| Fuel consumption | 7.6 l/100 km (31 mpg US / 37 mpg UK) |
| Views | 721 |
| Submitted by | Hoppelmoppel123 |
Performance
| | |
| --- | --- |
| 0 - 80 kph | 14.5 s |
| 0 - 100 kph | 22.9 s |
| 60 - 100 kph (4) | 15.4 s |
| 80 - 120 kph (5) | 24.5 s |
| Top speed | 129 kph (80 mph) |
| Est. emissions | 201 g/km |
Powertrain specs
Engine type
Inline 4 turbo diesel
Displacement

1.9 l (116 ci / 1905 cc)

Power

63 ps (62 bhp / 46 kw)

@ 4300 rpm
Torque

114 Nm (84 lb-ft)

@ 2500 rpm
Power / liter

33 ps (33 hp)

Power / weight

63 ps (62 bhp) / t

Torque / weight

113 Nm (84 lb-ft) / t

Efficiency
8 PS per l/100 km
Transmission
5 speed manual
Layout
front engine, all wheel drive
Samurai guy 1m ago
I have one of these, it really does have a turbo
---
somebody 2y ago
Is it really a turbodiesel? With this torque it looks like a n/a diesel.
---
FastestLaps 2y ago
No way any kind of turbo diesel with 1900 cc could do only 114 Nm. Its low for even non-turbo.
---
Hoppelmoppel123 2y ago @FastestLaps
AutoBild Allrad says it is a turbodiesel.
---
FastestLaps 2y ago @Hoppelmoppel123
Could be very lightly tuned diesel (these are not that uncommon for small offroaders) or could be typo in AutoBild.