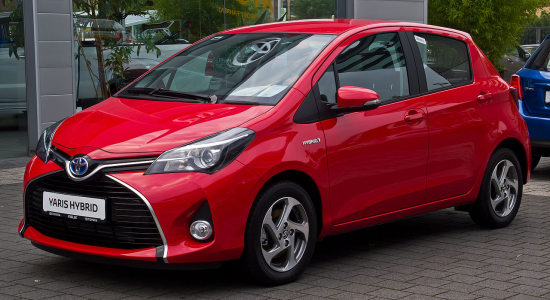 Toyota Yaris 1.5 Dual VVT-iE specs
| | |
| --- | --- |
| Price in Europe | €14,240 |
| Car type | Compact |
| Curb weight | 1073 kg (2366 lbs) |
| Years built | 2017 - 2020 |
| Origin country | Germany |
| Gas mileage | 12.9-4.7 l/100 km (18-50 mpg US / 22-60 mpg UK) |
| Views | 47 |
| Submitted by | Hoppelmoppel123 |
Acceleration
| | |
| --- | --- |
| 0 - 50 kph | 3.8 s |
| 0 - 100 kph | 10.1 s |
| 0 - 150 kph | 22.9 s |
| 60 - 100 kph (5) | 12.5 s |
| 80 - 120 kph (6) | 17.1 s |
General performance
| | |
| --- | --- |
| Top speed | 175 kph (109 mph) |
| 18m slalom | 62.3 kph (38.7 mph) |
| Emissions | 156 g/km |
| 50 kph - 0 | 9 m (29 ft) |
| 100 kph - 0 | 36 m (118 ft) |
| Noise @ idle | 40 dB |
| Noise @ 50 kph | 59 dB |
| Noise @ 100 kph | 65 dB |
| Noise @ 130 kph | 69 dB |
Powertrain specs
Engine type
Inline 4
Displacement

1.5 l (91 ci / 1497 cc)

Power

111 ps (109 bhp / 82 kw)

@ 5800 rpm
Torque

136 Nm (100 lb-ft)

@ 4400 rpm
Power / liter

74 ps (73 hp)

Power / weight

103 ps (102 bhp) / t

Torque / weight

127 Nm (93 lb-ft) / t

Efficiency
13 PS per l/100 km
Power / €5000

39 ps

Transmission
6 speed manual
Layout
front engine, front wheel drive
Yaris 1.5 Dual VVT-iE competition
FastestLaps 1m ago
Is that for real how its called? Dual VVT-iE.. Gimme a break.
---
benedekpuskas 1m ago
Variable valve timing is a great thing. I have no idea what "E" is...
---
FastestLaps 1m ago @benedekpuskas
Why add acronym of every great technology in engine to the model name of the car? VVT most petrol cars have by default these days anyway.