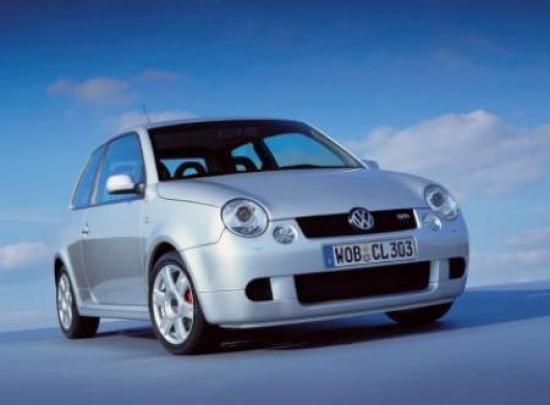 VW Lupo GTI specs
| | |
| --- | --- |
| Car type | Compact |
| Curb weight | 975 kg (2150 lbs) |
| Introduced | 2002 |
| Origin country | Germany |
| Views | 21.7k |
Performance
| | |
| --- | --- |
| 0 - 100 kph | 8.5 s |
| 0 - 60 mph | 8.9 s |
| 0 - 100 mph | 30.1 s |
| Est. 1/8 mile | 11.4 s @ 73.3 mph |
| Est. 1/4 mile | 17.8 s @ 88.9 mph |
| Est. 1/2 mile | 27.9 s @ 97.6 mph |
| Top speed | 205 kph (127 mph) |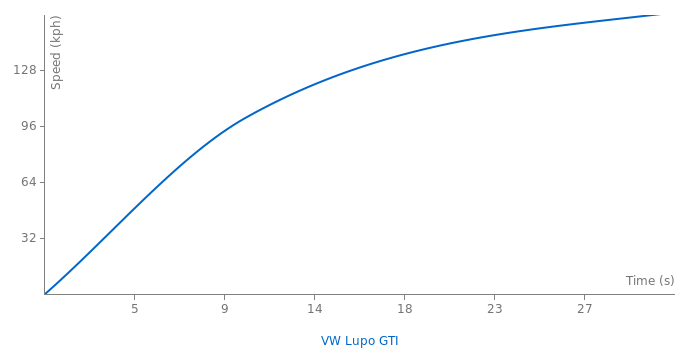 Powertrain specs
| | |
| --- | --- |
| Engine type | Inline 4, 16v |
| Displacement | 1.6 l (98 ci) |
| Power | 125 ps (123 bhp / 92 kw) |
| Torque | 152 Nm (112 lb-ft) |
| Power / liter | 78 ps (77 hp) |
| Power / weight | 128 ps (126 bhp) / t |
| Torque / weight | 156 Nm (115 lb-ft) / t |
| Transmission | 6 |
| Layout | front engine, front wheel drive |
Lupo GTI competition
---
---
humancar 2y ago
Nurburgring 9:09 lap time
---
javi((spain))) 13y ago
Hi Fastestlaps!!!
the Scans jarama fasteslaps reference:
Driver ( emilio de Villota, ex F1 driver)
---
javi(((spain)))) 13y ago
One More track to add to the list with new fastestlaps Mr. Fastestlaps :
Circuit du Bordeaux Merignac. 1.800 Long. France
Echappement Issue Nº 407 July 2001.
Fastestlaps @ Circuit Bordeaux Merignac:
1º Peugeot 106 GTi 120ps-----54,7 sec
2º citroen Saxo VTS 120ps-----55,0 sec
3º VW Lupo GTi 125ps---------56,2 sec
4º Opel Corsa GSi 125ps------57,4 sec
5º VW Polo Gti 125ps---------57,9 sec
Reference Scans Echappement Issue 407:
Rest of Scans comparo:
thanks
---
The Dude 15y ago
For anything close, either get a Saxo VTS or a 106 GTI, it will disgrace any other little hot-hatch within the same segment!