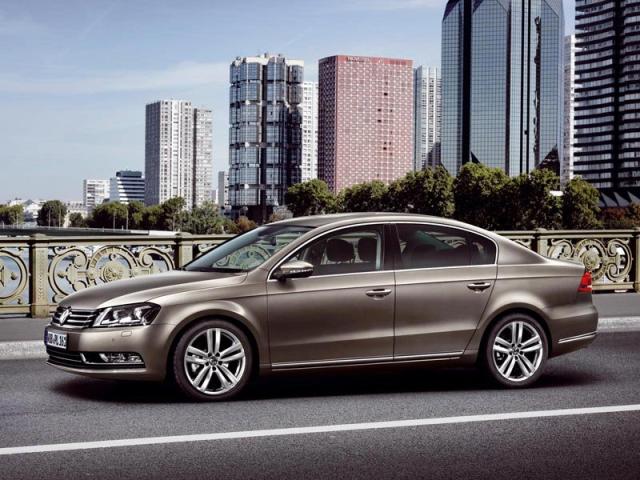 VW Passat Blue TDI DSG specs
| | |
| --- | --- |
| Car type | 4-door saloon |
| Curb weight | 1526 kg (3364 lbs) |
| Dimensions | 4.77 m (188 in) long, 1.82 m (72 in) wide, 1.46 m (57 in) high |
| Wheelbase | 2.71 m (107 in) |
| Introduced | 2011 |
| Origin country | Germany |
| Views | 8.2k |
| Submitted by | Georg |
Performance
| | |
| --- | --- |
| 0 - 100 kph | 9.8 s |
| Top speed | 211 kph (131 mph) |
Powertrain
Engine type
inline4 16V DOHC Turbo Diesel
Displacement

2.0 l (122 ci)

Power

140 ps (138 bhp / 103 kw)

@ 4200 rpm
Torque

320 Nm (236 lb-ft)

@ 2500 rpm
Power / liter

70 ps (69 hp)

Power / weight

92 ps (91 bhp) / t

Torque / weight

210 Nm (155 lb-ft) / t

Transmission
6 speed DSG
Layout
front engine, front wheel drive
Passat Blue TDI DSG rivals
piol 10y ago
Nice! faster than BMW 320si with rear wheel drive, 173ps and 200 kg less!!!
Thats a good car.
---
---

Georg 10y ago
if someone wonder why the more heavy Passat powered by the same engine/tranny than the Jetta is clearly quicker around the track..
The Passat had slightly wider tires
The Passat ESP could be turned of partly...in the Jetta it is always turned on and kicks in pretty early
The Passat has slightly less understeer..