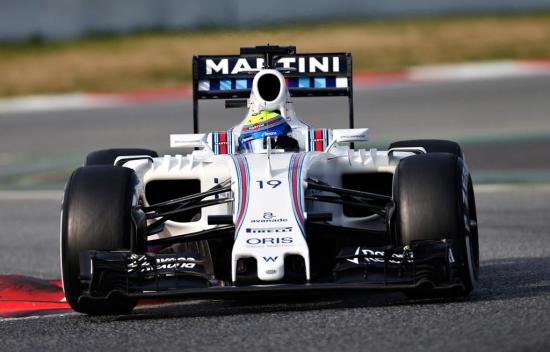 | | |
| --- | --- |
| Car type | Open-wheeler |
| Years built | 2016 - 2016 |
| Origin country | United Kingdom |
| Views | 4.9k |
| Submitted by | FastestLaps |
Powertrain specs
| | |
| --- | --- |
| Engine type | Mercedes V6 turbocharged hybrid |
| Displacement | 1.6 l (98 ci) |
| Transmission | 8 speed semi-automatic |
| Layout | middle engine, rear wheel drive |
FW38 competition
Race results
| Race | # | Driver | Time | Gap |
| --- | --- | --- | --- | --- |
| Canadian GP | 3rd | Valtteri Bottas | 1:31:51.7 | +46.4 |
| Russian GP | 4th | Valtteri Bottas | 1:33:32.2 | +50.2 |
| Malaysian GP | 5th | Valtteri Bottas | 1:38:14.4 | +61.6 |
| Spanish GP | 5th | Valtteri Bottas | 1:42:25.3 | +45.3 |
| Australian GP | 5th | Felipe Massa | 1:49:14.5 | +59.0 |
| Russian GP | 5th | Felipe Massa | 1:33:56.4 | +74.4 |
| Italian GP | 6th | Valtteri Bottas | 1:18:19.1 | +51.0 |
| European GP | 6th | Valtteri Bottas | 1:33:53.3 | +60.9 |
| Chinese GP | 6th | Felipe Massa | 1:40:09.4 | +75.5 |
| United States GP | 7th | Felipe Massa | - | +1 lap |
| Spanish GP | 8th | Felipe Massa | 1:43:00.7 | +80.7 |
| Australian GP | 8th | Valtteri Bottas | 1:49:30.7 | +75.2 |
| Mexican GP | 8th | Valtteri Bottas | 1:41:37.0 | +65.6 |
| Belgian GP | 8th | Valtteri Bottas | 1:45:51.2 | +60.2 |
| Bahrain GP | 8th | Felipe Massa | - | +1 lap |
| Hungarian GP | 9th | Valtteri Bottas | - | +1 lap |
| Japanese GP | 9th | Felipe Massa | 1:28:21.1 | +97.8 |
| German GP | 9th | Valtteri Bottas | - | +1 lap |
| Mexican GP | 9th | Felipe Massa | 1:41:47.6 | +76.2 |
| Italian GP | 9th | Felipe Massa | 1:18:33.7 | +65.6 |
Qualifying results
| Race | # | Driver | Time | Gap |
| --- | --- | --- | --- | --- |
| Russian GP | 4th | Valtteri Bottas | 1:36.54 | +1.2 |
| Chinese GP | 5th | Valtteri Bottas | 1:36.29 | +0.9 |
| Italian GP | 5th | Valtteri Bottas | 1:22.39 | +1.3 |
| Russian GP | 6th | Felipe Massa | 1:37.01 | +1.7 |
| European GP | 6th | Felipe Massa | 1:44.48 | +1.7 |
| Bahrain GP | 6th | Valtteri Bottas | 1:30.93 | +1.4 |
| Australian GP | 7th | Felipe Massa | 1:25.46 | +1.6 |
| Bahrain GP | 7th | Felipe Massa | 1:31.15 | +1.7 |
| Spanish GP | 7th | Valtteri Bottas | 1:23.52 | +1.5 |
| British GP | 7th | Valtteri Bottas | 1:31.48 | +2.2 |
| Canadian GP | 8th | Valtteri Bottas | 1:13.67 | +0.9 |
| German GP | 8th | Valtteri Bottas | 1:15.53 | +1.2 |
| Belgian GP | 8th | Valtteri Bottas | 1:47.61 | +0.9 |
| United States GP | 8th | Valtteri Bottas | 1:37.12 | +2.1 |
| Mexican GP | 8th | Valtteri Bottas | 1:19.55 | +0.8 |
| Canadian GP | 9th | Felipe Massa | 1:13.77 | +1.0 |
| United States GP | 9th | Felipe Massa | 1:37.27 | +2.3 |
| Mexican GP | 9th | Felipe Massa | 1:20.15 | +1.4 |
| Abu Dhabi GP | 9th | Valtteri Bottas | 1:41.06 | +2.3 |
| European GP | 10th | Valtteri Bottas | 1:45.25 | +2.5 |
---
FastestLaps 7y ago
Stepped into a giant pile of doo-doo? :D Bit more than can chew?
Just kiddin. The change in Terms of Service will allow to add limited set of non-street legal vehicles. They will have to be:
1.) F1 cars or MotoGP bikes
2.) No more than 1 model per year (to keep it sane and not have multiple sub-models after upgrades etc.)
I will add fastest laps for each driver after each F1 and MotoGP race.
And you will be able to filter out non-street legal cars with a checkbox in track pages.
---