Tesla Model S Plaid lap time at Nürburgring Nordschleife Full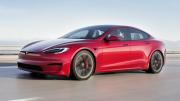 2022 Tesla Model S Plaid completed a lap of Nürburgring Nordschleife Full in 7 minutes and 35.6 seconds.
Reference: Tesla - Electric Vehicles Lap Record
---
---
Kinimod 3w ago @Drags
Still slower then a BMW M5 CS and very close to other 4 door German Sedans.
---
FastestLaps 3w ago @Kinimod
But can you save the planet while driving M5 CS or any of those other evil fossil fuel burning polar bear killers? Huh?