Mercedes-Benz AMG GT Black Series lap time at Nürburgring Nordschleife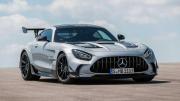 2020 Mercedes-Benz AMG GT Black Series completed a lap of Nürburgring Nordschleife in 6 minutes and 43.6 seconds.
Reference: Daimler AG - Mercedes-AMG GT Black Series Nürburgring testing
McLaren P1 LM
6:43.20
-0.4
AMG GT Black Series
6:43.62
Aventador SVJ
6:44.97
+1.4
Radical SR8 RX
6:45.50
+1.9
Ferrari LaFerrari
6:46.00
+2.4
Porsche 911 GT2 RS
6:47.30
+3.7
McLaren P1
352
+41.0
Ferrari 488 Pista
322
+11.0
McLaren 720S
318
+7.0
Ferrari 488 GTB
316
+5.0
AMG GT Black Series
311 kph
Porsche 911 GT2 RS
310
-1.0
Aventador LP750-4 SV
305
-6.0
Ferrari 812 Superfast
305
-6.0
AMG GT Black Series
305
-6.0
Tommi95 1y ago
This car didn't come to play, she came to slay
---

---
Luckydaff 1y ago
I've asked him why but he won't tell me? Might be because he knew the car would not handle going full throttle on the last part or something? But it looks very strange and I wonder if they could have done better than they actually did?
---
Aj 1y ago
Still think it can go quicker in the summer
---
---
benni275 1y ago
great laptime - didn't think it would set a new record in the beginning, but respect for that. Let's see how long it lasts (Huracan STO, 765lt with a proper/reworked setup, any of the newer Hypercars...)
---
Horst 1y ago @benni275
There is no new record, it's just the 2. fastest.
---