Chevrolet Camaro ZL1 1LE Package lap time at Nürburgring Nordschleife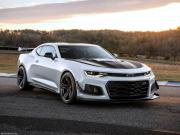 Chevrolet Camaro ZL1 1LE Package completed a lap of Nürburgring Nordschleife in 7 minutes and 16 seconds.
Reference: The Chevrolet Camaro ZL1 1LE Blitzed The Nurburgring In 7:16.04
---
---
---
Robert Kresic 11m ago
100% factory stock, YouTube video as proof.
And yes I'm speaking from experience, I own one.
---
GTRnismoXpert 5y ago
fake chebrolet use not factory deploying of tires. CHEET LAP TIME NOT POSSBLE CHEET CHE. camero not approach NISMO GTR SPEEDS. nissan king camero LIES. pls stop post FAKE lap time pls not real pls. US car = rubbish. no meant for turn HAHAHAHA US JUST CHEET CHEET CHEET CHEEET CHEEETT CHEEET
---
---
Jack 1y ago
You cheated the English language
---
Jack 1y ago
CORVETTE C8 destroy Nismo GTR, you see soon homie, no cheet. You love C8 long time soon.