Chevrolet Corvette Z06 lap time at Nürburgring Nordschleife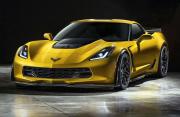 Chevrolet Corvette Z06 completed a flying lap of Nürburgring Nordschleife in 7 minutes and 13.9 seconds.
Reference:

Sport Auto - Corvette Z06 (C7) 7.13,90 min Nordschleife HOT LAP sport auto Supertest
GTRnismoXpert 3y ago
This post has received too much negative feedback and is hidden. Click here to show it anyway.
---
---
DodgeHEMI426 3y ago
Really really fast for a magazine lap time.