Chevrolet Corvette Stingray lap time at Laguna Seca (post 1988)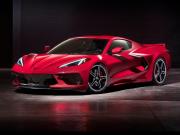 Chevrolet Corvette Stingray completed a flying lap of Laguna Seca (post 1988) in 1 minute and 37.8 seconds.
Reference:
Motortrend - 2020 Best Driver's Car Contender Hot Laps
sans 1y ago
Is it because it's winter that it's about two seconds later than 992s?
---

DodgeHEMI426 1y ago
Could be many factors. Maybe the race track hasn't been used for a while, which would mean less grippy tire remains on the track and more dust/dirt. As said before, most cars underdelivered. The Ferrari F8 Tributo was slower than its predecessor 488 GTB.
---
---
Tommi95 1y ago
See? All the cars underperformed in this test, corvette c8, f8, Turbo S, Evo ... It was probably a bad day. The only one that didn't disappoint me is the 718 gt4
---
benni275 1y ago @Tommi95
Hate to say it because I don't like SUVs, but the Cayenne Coupé Turbo also didn't underperform, it has even beaten the Urus. The Shelby GT500 also wasn't bad in my opinion. Would be interesting if really all laps were done on the same day, otherwise this might be a possible explanation.
---
Tommi95 1y ago @benni275
Yeah the Cayenne really surprised me! I really didn't expect it to be faster than the Urus