Mercedes-Benz ML 63 AMG lap time at Bedford Autodrome West Circuit (2004 - 06/2008)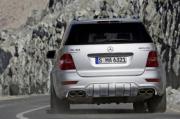 Mercedes-Benz ML 63 AMG finished a flying lap of Bedford Autodrome West Circuit (2004 - 06/2008) in 1 minute and 30.9 seconds.
Reference: Car
---
javi( spain) 15y ago
Car & tecno (Same as EVO, but car& tecno in spain):
Nº 19 May 2007:
http://www.luike.com/revistas/GT/col/sum/CT19.pdf
And the rest time tracks at bedform autodrome of this issue:
Porsche cayenne Turbo:1 min 29,55s
MB ML 63 AMG: 1 min 30,05 sec
Lotus Elise S: 1 min 30,20 sec
Scan:
---
FastestLaps 15y ago
Cannot access the link you provided. It's behind Log-In.
And, please, remember - link to an online forum IS NOT a reference as described in Fastestlaps.com site rules. If your reference is based on a forum post, please be so kind and first mention the original source (if it's magazine, mention the issue date for example "Sport Auto 03/09") and THEN you can add the link to forum post or a link to magazine scan etc. Hyperlinks can often break and when it happens, reference is rendered useless.