Lamborghini Countach 5000 QV laptime at Grand Tour Eboladrome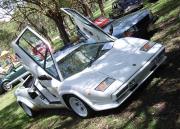 1985 Lamborghini Countach 5000 QV finished a lap of Grand Tour Eboladrome in 1 minute and 31.8 seconds.
Reference: The Grand Tour - Series 3 - Episode 10
Oldeskool 4m ago
Impressive that it would kick a base 2019 Mustang GTs arse in the dry.
---
FastestLaps 4m ago
A twelve still is a twelve and still hauls ass 2019 even if it's from 1985 and the design dates back t 1960s.