Abarth 500 EsseEsse lap time at Vairano Handling Course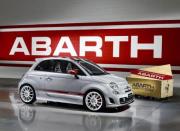 2008 Abarth 500 EsseEsse completed a flying lap of Vairano Handling Course in 1 minute and 27 seconds.
Reference: Quattroruote

---
Nik 8y ago
The real speed is 211 km/h (with (GPS). With my 595 Abarth, i got to do 210 km/h...(t-jet, 160hp)
---
Nik 8y ago
This time is an error...delete please!