Hockenheim Short lap times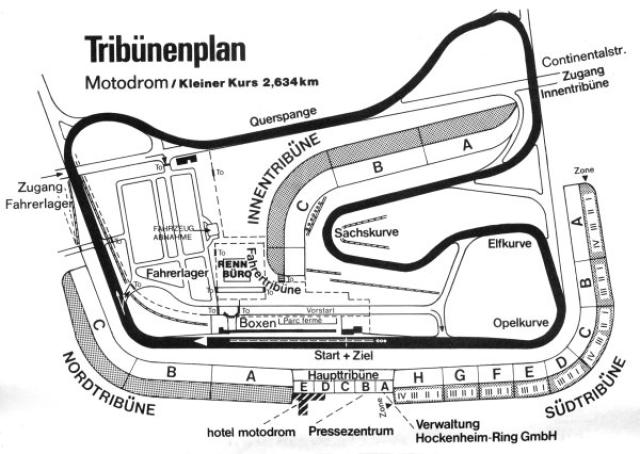 Hockenheim Short
The Hockenheimring Baden-Württemberg is an automobile racing track situated near the town of Hockenheim in Baden-Württemberg, Germany. Amongst other motor racing events, it holds the annual Formula One German Grand Prix. Situated in the Rhine valley, the circuit is completely flat, without any changes in elevation.

The "Hockenheim Short" configuration is used by popular German car magazine "Sport Auto" in their infamous "Super-tests". That's why this is the most popular racetrack in fastestlaps.com with more then 300 lap times.
---
| | |
| --- | --- |
| Country | Germany |
| Track length | 2.64 km / 1.64 miles |
| Top speed | 238 kph / 148 mph - McLaren P1 |
| Track record | 1:03.8 - 911 GT2 RS |
| Front-drive record | 1:12.6 - Golf GTI Clubs.. |
| 4-door sedan record | 1:10.4 - M5 Competition |
| Convertible record | 1:06.3 - 918 Spyder |
| Motorcycle record | 1:11.4 - KTM RC8 1190 |
---
FastestLaps 2y ago
It is arbitrary limit I have set for performance reasons. If you use filters and only request rear wheel drives or front wheel drives, you will see the slower lap times, because total number of times will be within this limit.
I will likely increase this limit in future. I think it only affects this one track, because no other place has as many laptimes.
By the way, if you don't log in, you will only see ~230 lap times. Its the "pleb mode" for those who can't afford to spend 5 minutes creating account (99.99999% of visitors).
---
Alex Stefanidis 2y ago
The Carrera gt with 1:06 was an edo competition Carrera gt-r, not a normal Carrera gt. Auto sport Germany magazine tested it with the mc12 corsa in i think 9/2008
---
Vlad 3y ago
A lot of these times are hard to understand
---
---

benedekpuskas 4y ago
Stock GT3 RS faster than modified?
This is funny.
---
---
---
fakekillerfour 7y ago
I think the lamborghini LP750-4 SV will beat the ferrari f12 tdf on this circuit.
The regular aventador LP700-4 beat the regular f12 berlinetta.
Aventador LP750-4 SV: 1:07.8
Aventador LP700-4: 1:08.6
F12 Berlinetta: 1:09.9